Not Funny: Mad's Long, Steady Circ Decline

Magazine's circulation, 1961-2008.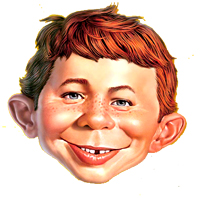 Mad magazine announced yesterday that it is shifting from a monthly to a quarterly, and killing a pair of spinoffs. Editor John Ficarra explained that "the feedback we've gotten from readers is that only every third issue of Mad is funny—so we decided to just publish those."
Funny. You know what's not funny? Mad's circulation decline.
A guy named Mike Slaubaugh has compiled Mad's average circulation (total newsstand and subscriptions per issue) from 1961 to 2008.
Here's what Slaubaugh found. Warning, the chart is not for the faint of heart:
Mad Circ

1961    1,209,918
1962    1,293,705
1963    1,429,080
1964    1,424,628
1965    1,532,926
1966    1,635,612
1967    1,780,555
1968    1,831,648
1969    1,884,502
1970    1,864,443
1971    1,845,325
1972    1,905,973
1973    2,059,236
1974    2,132,655
1975    1,928,139
1976    1,787,928
1977    1,721,515
1978    1,626,452
1979    1,561,327
1980    1,342,640
1981    1,094,085
1982    1,001,724
1983    879,075
1984    783,192
1985    744,817
1986    740,442
1987    742,743
1988    763,335
1989    784,206
1990    681,726
1991    584,684
1992    503,756
1993    478,385
1994    409,344
1995    359,936
1996    309,911
1997    309,660
1998    293,580
1999    293,721
2000    233,408
2001    208,645
2002    205,441
2003    207,293
2004    211,473
2005    212,696
2006    190,956
2007    205,890
2008    174,567

SOURCE: Mike Slaubaugh
Meet the Author
---