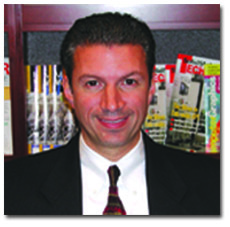 In an expansion of its digital operations, Northstar Travel Media has appointed Thomas Cintorino to the newly-created position of executive vice president of digital media. He will be charged with accelerating development of Northstar's new digital platforms and products.
Cintorino [pictured] spent the last decade at PenWell Corporation where he most recently served as senior vice president of digital media. In that position he was responsible for the company's Internet division as well as PennEnergy print, events and digital media.
"Pennwell has very strong magazines, events and digital products serving a broad range of verticals," Northstar chairman and CEO Tom Kemp told FOLIO:. "Tom has learned to work with the management teams of the vertical markets."
In addition to PennWell, Cintorino also served as head of American Business Media's Digital Media Counsel. Kemp said hiring Cintorino is part of a strategic plan to accelerate Northstar's transition to a "digitally focused media business."
Digital operations are showing a mid-20 percent growth rate in 2009, but those revenues represent less than 20 percent of Northstar's overall revenue mix (excluding the company's digital subscription data products), Kemp said.  He hopes digital revenues to account for 25 percent of overall sales in 2010 and to achieve about 35 percent over the next three years.
"We continue to have strong print revenue so the growth of the percentage is not simply a matter of the decline of print," said Kemp.
Based in Seacaucus, New Jersey, Northstar publishes several trade titles including Travel Weekly, Meetings & Conventions and TravelAge West.