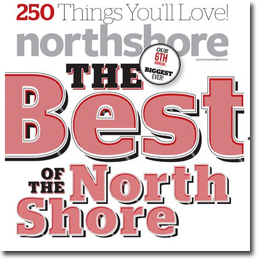 Regional pub Northshore magazine announces a frequency increase, upping from six to eight issues annually. According to Rick Sedler, president of parent company RMS Media Group and publisher of the magazine, "We have been fortunate to have maintained a steady page-count increase for the last several years. Our growth is based largely on increased advertising sales revenues. This affords us the opportunity to create more features…Further, there has been demand for additional issues from both our readers and our advertisers."
RMS purchased the Essex County, Massachusetts pub in 2005 from an independent self-publisher for what Sedler told FOLIO: in 2009 to be "an eighth of its total worth today". Beginning as a quarterly controlled subscription magazine, Northshore was repositioned under a paid sub model. The magazine now has a circulation of 30,000, and is also available on newsstands.
According to a prepared news statement, Northshore managed to hit its advertising, circulation and production target goals over the past three years. The magazine's current issue, Best of the North Shore 2011, brought in the highest ad revenue in the publication's history.
Sedler says installing an internal sales progression tracking system helped greatly improve staff productivity, "We learned that our salespeople, who thought they put in a good day's work, were actually only spending an hour or two on what really matters…: adding new accounts, contacting the clients via phone or email, making a presentation, getting verbal orders and executing signed contracts."
Other updates included integrating production and accounting into publication software, as well as integrating Northshore's CRM into the software. "This removed redundant data entry and insertion order creation," says Sedler.
The publisher also set up remote access for selling materials, installed emailed agreements with a digital signature option and "removed sales from the process of ad material collection and client design approvals entirely". A welcome kit for advertisers was created, involvement in community events and trade shows was heightened and a newsstand consultant was hired to improve magazine visibility.
Also aiding in the Northshore's growth is the publisher's attitude. "Believe you can grow the business," says Sedler. "Turn off the news about the economy."