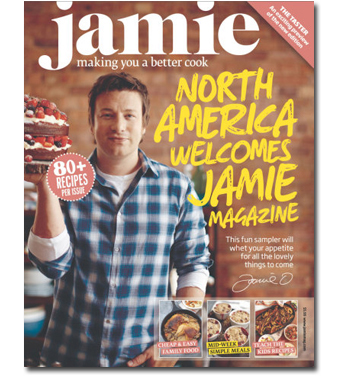 The magazine brand for celebrity chef Jamie Oliver has hit a major snag with its plans to be licensed for distribution in North America. A partnership between UK-based Jamie magazine and software company idoodle has broken down.
A spokesperson for Jamie magazine declined to offer details on why the licensing deal fell apart, but said talks with other potential partners are underway. "We are actively seeking a new relationship," she said.
Customers who pre-ordered a North American subscription will be provided with the UK print or iPad edition of the magazine.
A message was posted to Jamie Oliver's Facebook page, which has about 1.5 million likes, announcing the setback:
Dear North American Subscribers,
Due to a number of challenges, we have found it necessary to sever our relationship with our North American licensee, idoodle media. We apologize for the delay in the North American launch and are in the process of reviewing all of our legal options. If you are a new North American subscriber and haven't received an issue, please contact us at contact@jamiemagazine.com and we can arrange for to you receive either a brand-new North American iPad subscription or a UK print subscription.
All our best, Jamie, Andy and Paul
A holiday-themed issue was set to launch by November 2012, with a distribution of 300,000 issues.
The partnership with idoodle, which is based in Ottowa and London, was supposed to leverage a QR or augmented reality-style technology that connected readers with video content.
"Our technology can make any image [function] like a QR code," idoodlemedia CEO Robert Sowah told FOLIO: last fall. "When the reader downloads our app they point to Jamie Magazine on the newsstands or on their kitchen counter and they will get a few videos from the magazine. It will be Jamie or a chef cooking a few recipes that are inside the issue. Readers can get the recipe for that video, and we're also integrating the advertisers into that."