It's been 14 years since the Cahners name has existed as a business entity in the world of B2B media. (In 2002, Cahners Business Information officially became Reed Business Information.) And it's been 30 years since the death of its namesake, Norman Cahners, the man who founded what would become a trade-magazine behemoth by the nineties. But somehow, for some reason, the Cahners name endures, living on in the lives of former employees, on Facebook, LinkedIn, and in-person reunions.
Perhaps it's because the company in its final iteration got very big and touched many lives—Cahners Business Information at the turn of the century was an amalgam of several acquired B2B media companies, with hundreds of employees, more than 100 brands, and hundreds of millions in revenue.
Or maybe it's because of the legacy of its founder, a native of Bangor, Maine, and longtime resident of the Boston area who lived a remarkably full life and was a true media innovator. Cahners was born in 1914, and lived an early life of privilege, attending Andover and then Harvard. He served in the Navy in World War II, and revolutionized the military methods of materials-handling. He patented an invention—the four-way pallet, a then-new way of loading, unloading and storing supplies and weapons.
After the war, Cahners and a partner from the Navy launched a magazine, The Palletizer (soon renamed Modern Materials Handling). And it was from that start that what would become Cahners Publishing was launched. There were other B2B publishers around in the middle of the last century, of course. McGraw-Hill dates back to the late 19th Century. But Norman Cahners refined a concept: A niche orientation and controlled distribution to carefully selected names coveted by endemic vendors.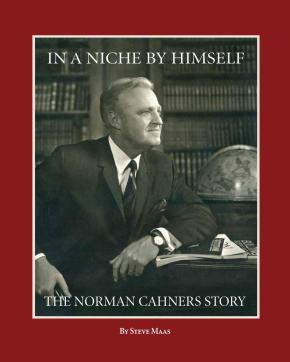 In 2015, journalist Steve Maas published a biography of Norman Cahners, "In a Niche By Himself: The Norman Cahners Story," and late last year he approached me, suggesting that Folio: write a review.
As I read the book, there were many names and incidents I remembered from earlier in my career. More than that, I was reminded of the earlier years of B2B media, before conglomerates and private-equity backing. Most of all, I was reminded yet again of the always fascinating richness and vitality of lives and times that now mostly exist in fading memories or books and old clippings—if their history exists at all. Norman Cahners was anything but a two-dimensional newspaper clipping, and by extension, the same applies to everyone who ever worked for or with him or competed against him.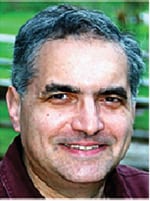 Steve Maas' fine book, available for purchase here, is a window into a life and era that's worth spending some time with. In this case it's Norman Cahners, but it could really be anyone, and any era—times filled with monumental struggles, setbacks and successes. And so we decided we'd excerpt parts of the book. Here's the first of several parts, describing Norman Cahners' approach to the "niche concept." —Tony Silber
---
While it might sound sacrilegious to say this, Norman Cahners probably didn't have a particular passion for pallets. For him, their appeal was that they provided a simple solution to a complex problem. He wasn't obsessed with engineering details. His eye then and throughout his career was on the big picture.
He was also an ambitious person, seeking out bigger challenges and a larger stage than that afforded by pushing pallets and consulting on materials handling. "A publisher was a good thing to be," [Norman's brother] Walter said. And to be the publisher of many magazines was even a better thing to be.
As a navy lieutenant, Cahners pioneered more efficient ways to ship supplies. As a publisher, he pioneered ways to maximize the impact of magazines. By sending Modern Materials Handling free to a targeted audience—managers and engineers responsible for shipping, packaging, warehousing and inventory – he was on the leading edge of the new field of controlled circulation publishing.
"He didn't give a damn about ink and paper," Walter said. "He knew what the market needed, and he knew how to build it."
Niche, Niche, Niche

The "how" was the niche concept, as he never tired of telling his staff (using the less common French pronunciation, neesh).
Cahners saw his magazines as matchmakers. They brought together executives hungry for the latest information on their particular industries or areas of responsibility and advertisers eager to zoom in on their particular customer base. He wanted magazines that were must-reads and must-advertise for their niche.
What set Cahners apart from the competition was the precision with which he pinpointed corporate decision makers and their knowledge needs. In 1948, the US government handed Cahners a gift: a research report that found that plants employing 100 persons or more accounted for 80 percent of equipment purchases. He recognized that if he could get to the right people in those plants he would have sewn up the bulk of the market for Modern Materials Handling. He first had his staff track down the names and addresses of each of those large plants. There were 35,000 of them. But sending a magazine to the mailroom was no guarantee it would reach the right executives; more likely, it would wind up in some circular file. Without an Internet and unlimited long-distance calling, there was no cheap and easy way to dig up the names of the key decision makers.
Perhaps the phone company had or would obtain the necessary information, Cahners thought. Ma Bell, then a nationwide monopoly, was perfectly happy to let Cahners make as many toll calls as he wanted—at his expense. Next, Cahners asked Railroad Express, figuring that its workers stopped by these factories every day. "They said their [own] people were so stupid that they were lucky to get their packages delivered, and couldn't handle asking questions," Cahners recalled in a 1968 profile. Finally, Cahners asked Western Union if he could pay its operators extra to do the research during their down time. "They said they had never done it before, but if we could give them the names and addresses of the companies, they didn't see why they couldn't get the answers. And they did," Cahners said. The telegraph operators—then located in virtually every decent-sized town in America—called local companies for the names of those responsible for materials handling. They then called the executives for details about their workforce and equipment. To keep everything kosher, Cahners had an independent company verify the information. Thus Cahners salesmen could guarantee potential advertisers that buying space in Modern Materials Handling would reach 80 percent of their market. "Then we found that our business started to move," Cahners said in the 1968 interview.
The proof is in the many hand-written spreadsheets (no Excel in those days), tables and bar graphs Cahners saved from the company's early years. They show that Modern Materials Handling ran at a loss its first five years, accumulating a total of $100,000 in red ink. Nearly half that loss was in 1950, but a year later the company turned a profit. By 1953, that profit was just shy of $110,000 on income of nearly $670,000.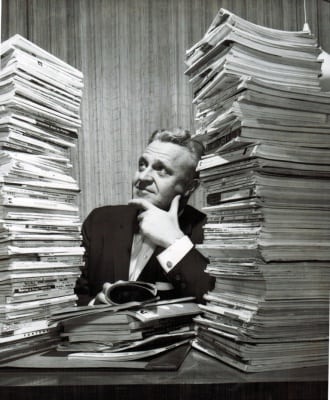 Another chart compared ad lineage among industrial publications for the four-year period of 1950 to 1953. Modern Materials Handling saw a 133 percent increase in ad pages over that time, compared with a 35 percent average for all industrial publications. Still, it wasn't until years later that Cahners's biggest competitor, McGraw-Hill, wised up to free controlled circulation.
The 1968 profile was titled "A Publishing Giant Who Socks It to 'em," a nod to the hit sixties comedy show "Laugh In." In it, Cahners summed up his publishing philosophy: "Keep your eye on the ball! Make sure that each publication is circulated to the right people, and enough of them, and that they read it. Then getting advertising is just a question of documenting those facts."
The Isle of Data

How did Cahners keep track of all the data? Through outsourcing, according to Walter Cahners. Every day a batch of information was flown down to an island on the Caribbean (which one, he couldn't recall) to be punched into IBM data cards. "When that island had a hurricane, [Cahners] became the big supplier of first aid and food, because 90 percent of the island worked for him," Walter said of his brother.
The expense was well worth it. Not only did this goldmine of data secure advertising accounts, but it also provided revenue through direct marketing and mailing list rentals, Walter said. That his brother had hit upon this efficient way to process data reflected his almost obsessive zeal to build the proverbial better mousetrap, Walter said. "He was easily triggered in pursuing something until its bitter end, until it materialized into a system or plan or machine. He would surround himself with experts," Walter added. "He would tap people very wisely. He would ask the right questions."
"In a Niche by Himself: The Norman Cahners Story" can be purchased here.