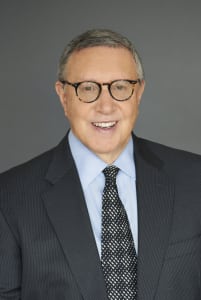 New York—Norm Pearlstine, chief content officer of Time, Inc., kicked off the first day of full programming at the Folio: Show by delivering a morning keynote address in front of a packed ballroom here at the Marriott Marquis.
Now in his second stint with Time, Inc.—he rejoined the company in 2013 after spending five years in a similar role at Bloomberg—Pearlstine spoke primarily on challenges magazine publishers face as they adapt to the emerging importance of new audiences and platforms, drawing on his own experiences in the wake of Time Inc.'s spin-off from Time Warner.
"Some of our recent acquisitions reflect the continuing power of print," says Pearlstine, referencing the company's 33 million-strong print subscription base. "At the same time, however, we need to recognize that many opportunities in print are declining."
Upon his return in 2013, Pearlstine noted that many of Time's brands were operating independently, with little collaboration across titles. The company was also sitting on a massive wealth of customer data, and needed to think of itself as a data company.
"Editorial, when combined with great data and engineering, can create quality products for our customers," he says.
Regarding Time Magazine, Pearlstine acknowledged that questioning print news outlets, in today's age of 24-hour cable and online news, is completely fair. Print news outlets still have not done enough to differentiate themselves from other similar publications that have failed in the past, he says.
To fight a perceived inferiority of print news among an increasingly-digitized public, Pearlstine suggests editors look at digital content to see ways to adapt it to benefit a print audience, stating that it's the direction in which most print magazines will eventually be forced to go.
"There is a strong need for curation and repurposing of content. With smaller staffs, we need to go through the trouble of distinguishing and differentiating content between print and digital."
"Our print products remain profitable and an important part of our future," adds Pearlstine. "Time's revenues and earnings are up for the first time in a decade."
In closing, Pearlstine was optimistic about the future of the magazine industry—if editors and publishers can position their content in a way that embraces trends. The migration of advertising revenue to Google and Facebook can be traced directly back to the traditional media outlets that once had it all to themselves, he says.
"There has never been a better time to be a journalist," Pearlstine says, citing unprecedented access thanks to search engines, aggregation and non-traditional media outlets like bloggers, who are able to post stories far in advance of traditional outlets, "But the curation needs to be done in an intelligent way."