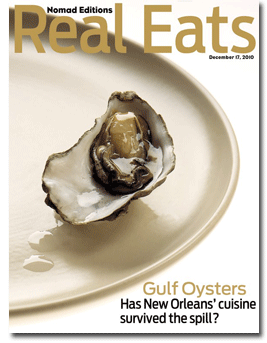 In January, Nomad Editions, the digital media company developed by a group that includes former Newsweek president Mark Edmiston and noted designer Roger Black, will officially launch. The launch is significant for digital editions being the core-rather than an ancillary- product, and includes a three-prong business model that focuses on subscription revenue over advertising and sharing up to one-third of the revenue with contributors and editors.
Nomad debuted three themed digital editions this fall: Real Eats: Stories Behind Food; Wide Screen: Inside the Movies That Matter and Wave Lines: Your Brain on Surfing. A fourth, u+me: Voices Behind Videos, will launch in January. Each edition is a digital publication designed specifically for reading on a smartphone or tablet with a 20 to 30 minute reading experience.
Prospective readers get a free trial for the first 30 days then subscriptions are sold in three-month blocks for $6. Advertisers can exclusively sponsor single editions for $9,000 per week but the price varies depending on the length of sponsorship (minimum of one week, with different quarterly and yearly options to sponsor on an ongoing basis).
More than one-third of the revenue generated by the digital editions will be set aside for freelancer writers, illustrators, and designers, with 5 percent of total revenue of a Nomad edition going to the editor of that edition. Nomad also launched a custom division headed by former Inc. editor Chris Leach.
"From the beginning, we envisioned three different businesses under the same umbrella," says Edmiston. "The first is an independent group of people creating a product that we promote. Second, we're in conversations with four or five publishers to create new digital products for them. We're not looking to be a Zinio but an existing publisher can take a brand that's single product, and rebirth it as, say, a weekly, and we'll distribute it. The third business is custom publishing where we will create the product with a sponsoring organization. Those will not be called Nomad editions to avoid brand confusion."
Nomad is currently approaching 2,000 subscribers (of which 20 percent are overseas) across its digital editions without doing any real promotion, according to Edmiston.
"We don't need 700,00 circ to make it work," he says. "Each digital edition requires an editor and four or five individuals to contribute. Launching a Nomad edition is not cost-free but is measured in thousands of dollars. It's not hard to do as long as you have someone who is willing to pull it together. If we can you get around 40,000, 50,000 in subscribers, the contributors get $35,000 to $45,00 each, while the editor gets around $70,000. It's not retirement income but it's enough for journalists to have a real base. The remaining 65 percent pays for costs and we still have a profit. I think that's a modest goal for something like this. Individual editions like Popular Science have sold more issues at a much higher price point."
Nomad editions are based on Treesaver, a software suite developed by Black and former Microsoft engineer Filipe Fortes that leverages HTML5. The Nomad apps will be available for direct download or through Apple. "The tech allows us to sidestep Apple if we wish but its also lets Nomad participate in the app store," Fortes told FOLIO: earlier this year. "We can have the best of both worlds. Being on the Web has all sorts of advantages like Google finding your page, people copying Twitter links and posting links on Facebook."