Nomad Editions Launches Two New Publications

Sustainable Money, Good Dog debut this week.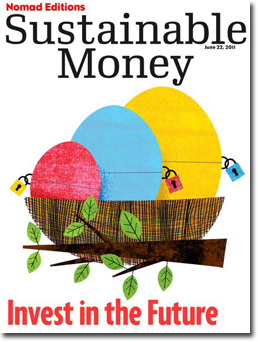 Nomad Editions, a digital media company specializing in publications for mobile devices, added two titles to its stable this week in Good Dog and Smart Money.
Both titles are available in the Apple App Store and readers will be able to download one issue for free. Renewable monthly subscriptions for Nomad titles are $0.99 through in-app purchase while annual subscriptions are available for $9.99.
Nomad offers five other titles including Real Eats, Wide Screen, BodySmart, Uncorked and u+me. Last December the startup launched a custom division focusing on two content areas: health and sports.
The initial Nomad plan emphasized subscriptions over advertising revenue, as well as a potentially significant revenue share with editors and writers. More than one-third of the revenue generated by the digital editions will be set aside for freelancer writers, illustrators, and designers, with 5 percent of total revenue of a Nomad edition going to the editor of that edition.
Darrell Delamaide, former director of AOL's Personal Finance Channel and a writer for Barron's, Bloomberg and Institutional Investor, serves as the editor of Sustainable Money.
Meet the Author
---