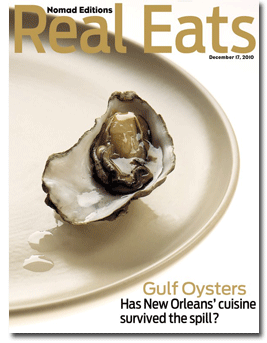 Nomad Editions, the digital media company developed by a group that includes former Newsweek president Mark Edmiston and noted designer Roger Black, officially launched yesterday. The company offers weekly digital publications–such as Real Eats, Wide Screen, Wave Lines and BodySmart-designed specifically for mobile devices such as the iPad. One of its first projects will also be developing a weekly digital prototype for National Geographic Traveler.
The prototype will be based on updated archival material and photography from National Geographic Traveler and if successful, will be marketed through Nomad Edition's digital newsstand.
Prospective readers of Nomad Editions get a free trial for the first 30 days then subscriptions are sold in three-month blocks for $6. Advertisers can exclusively sponsor single editions for $9,000 per week but the price varies depending on the length of sponsorship (minimum of one week, with different quarterly and yearly options to sponsor on an ongoing basis).
More than one-third of the revenue generated by the digital editions will be set aside for freelancer writers, illustrators, and designers, with 5 percent of total revenue of a Nomad edition going to the editor of that edition. Before the official launch, Nomad had 2,000 subscribers across its digital editions, with 20 percent coming from overseas.