No Depression Lives Again—As $20 'Bookazine'

Shuttered music magazine to carry no advertising.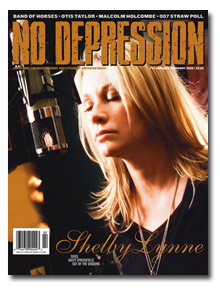 Some good news from the ailing music magazine industry: No Depression, the Seattle-based alternative country music publication that folded earlier this year due to declining advertising revenue, will relaunch as what the publishers call a "bookazine"—a large format paperback book featuring long form music journalism.
With a cover price of $20, No Depression will be published twice per year without any advertising, according to a story on North Carolina's News and Observer Web site. It will be produced as part of a collaboration with the University of Texas Press.
No Depression ceased publication with its May-June issue after the magazine's ad dollars plummeted 30 to 40 percent. "Unfortunately, the ad community that shares (No Depression's) interest doesn't have any money, and doesn't look like its going to have any money in the foreseeable future," co-founder Grant Alden said at the time.
Not long after, fellow music magazine Harp shuttered, its publishers citing declining revenue and increasing costs. Small yet well-regarded independent music magazine Resonance also folded this year.
With CD sales falling worldwide and music magazines seeing ad pages evaporate (first half ad pages were down 24.7 percent at Rolling Stone, -23.5 percent at Blender and -18.3 percent at Vibe), it's nice to see that Alden and the magazine's other founders are rethinking the business model—even if the end product isn't technically a magazine.
Meet the Author
---