'No Change in Ownership' for New York

In a memo, CEO said magazine will be managed by a family trust.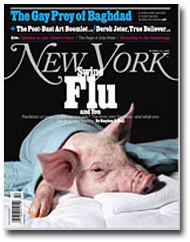 A little more than a week after the death of investment banker and New York magazine owner Bruce Wasserstein, the CEO of the company that publishes the city magazine has said that it will not be sold.
"Given the speculation on the future of New York Media, I'd like to make clear that there will be no change in ownership," New York Media Holdings CEO and Wasserstein & Co. vice chairman/managing director Anup Bagaria wrote in a memo to staffers Thursday.
"The company will continue to be controlled by a Wasserstein family trust that is proud of the work being done by New York magazine and its online properties nymag.com, MenuPages.com, and Grub Street," he wrote. "We will continue the high standards set under Bruce's leadership which have established us as an innovative and forward-thinking media property."
Wasserstein died October 14 after being hospitalized with an irregular heartbeat. He served as director of the Lazard Group since January 2002 and as chairman and CEO of the Lazard Group and Lazard Ltd. since May 2005.
In 2004, Wasserstein's Wasserstein & Co. beat out a consortium of bidders for New York magazine, and in 2007 sold American Lawyer Media to Incisive Media for $630 million. Wasserstein & Co. also owns a stake in Hanley Wood and a 50 percent stake in Penton Media, which is now evaluating its capital structure.
What might become of Wasserstein & Co.'s stakes in Penton and Hanley Wood was not immediately clear. Bagaria did not return a request for comment.
Meet the Author
---