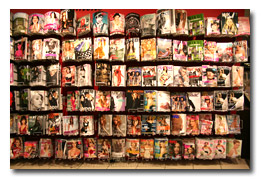 Consumer magazine advertising sales modestly increased in the first half of this year. However, the newsstand situation continues to baffle. The industry can't seem to cap the sales leaks that have been bedeviling it the last two years.  In the first half of this year sales of audited consumer magazines again disappoint—unit sales declined to 320 million—a drop 7.6 percent. Revenue declined to $1.28 billion—a fall of 6.7 percent.  
Industry Sales Down Nearly 25 Percent Last Two Years
The sales difficulties began in the second half of 2008 when the lid blew off the newsstand well. In the ensuing two year period sales have precipitously fallen—unit sales down 22.3 percent and revenue off 19.9 percent. The industry is now selling nearly 25 percent less copies than it did just a few years ago. This is a decline of serious proportions and, not surprisingly, it's changing how magazines are distributed and sold. Many of the reasons for the newsstands sale slide are well known—a recessionary economy, the influence of the Internet and less store visits. The sales difficulties have also been exacerbated by the record number of discontinued titles and a dramatic slowing in the number of new title launches. The number of audited consumer magazines sold on the newsstand dropped from a high of about 600 titles in the year 2000 to roughly 430 in the first half of this year.
Wholesaler Adjustments
A less well-known reason for the sales decline involves changes made by the industry's major wholesalers.
A little background may help in understanding what's going on here. The newsstand has always been a hit-driven business with strong selling titles (top 25 publications) providing most of the profit for wholesalers. The lesser titles (thousands of them) were economically enabled, to some extent, by the better selling publications. For wholesalers the need to carry a full range of titles was a competitive necessity, but it also promulgated many of the inefficiencies that the business has become known for.  Until a year ago wholesalers were trapped in a very difficult situation that involved heavy competitive bidding for major chain retail accounts. However, a little over a year ago Anderson News, one of four major wholesalers at the time, departed the business. Their departure eased some of the competitive pressure and freed the three remaining major wholesalers to rethink their distribution plans as well as the number of titles they carry and the number of small retailers they service. The results of these changes are altering sales and product preferences.   
Wholesaler Changes Favor Checkout Over Mainline Titles
It's important to note that the three major wholesaler groups distribute approximately 80 percent of the publications sold on the newsstand. But they are no longer omni present suppliers for every retailer in their territories. In recent years they have become specialists in distributing to major retail chains and transportation terminals.  
The significance of this is that wholesalers have become even more oriented toward checkout titles (the titles favored by chain retailers) and less concerned with mainline publications.  This change in focus is showing up in product preference. The results are most apparent in the revised sales patterns of checkout and mainline titles.  Relatively speaking it reveals that checkout title sales are rising and mainline publication sales are sinking.
1. Checkout (68 titles) Vs Mainline—Checkout unit sales down 5.3 percent and revenue off 4.4 percent. By comparison mainline sales—units down 15.6 percent and revenue off 12.5 percent.  The sales decline was three times steeper for mainline titles.

2. Checkout Sales Dominate—They accounted for 79.8 percent of unit sales and 72.9 percent of revenue in the 1st half of 2010.

3. Checkout/Mainline Sales Last Two Years—Checkout—unit sales down 18.9 percent and revenue down 14.8 percent. Mainline units sales down 33.7 percent and revenue off 30.9 percent. Mainline sales are declining at twice the rate of checkout sales. Mainline titles are rapidly losing their newsstand influence.
Influence of the Top Ten Titles
The newsstand, however, remains a hit driven market—witness the sales of  the top ten titles, ranked by 1st half revenue (1st half unit sales changes in parenthesis)—People (-2.3), US (-7.7), In Touch (3.4), Woman's World (6.9), Star (-11.6), National Enquirer (-8.2), Cosmopolitan (1.6), OK! (-9.5), Life & Style (-10.1) and Globe (-10.8). Overall their unit sales were down 3.3 percent and revenue declined 3.2 percent.  
By way of contrast the sales of all other audited publications (besides the top 10) fell at a very steep rate – unit sales down 11.8 percent and revenue off 9.4 percent.  For first time the top ten titles accounted for more than 50 percent (51.3) of unit sales for all audited consumer magazines.
The pervasive impact of the top ten titles should help publishers, especially those with mainline titles; understand why wholesaler attention is focused squarely on their best selling publications.   
Final Thoughts
A cap for the sales leak, which has reduced sales by nearly 25 percent, is probably nearly in place—we hope it holds.  But the sales slide has left permanent product preference changes in its wake.  If you're a publisher of checkout titles this is good news, but for mainline publishers the newsstand world has gotten a lot less friendly.  Mainline title publishers would be wise to be searching for more distribution alternatives because major wholesalers are more likely to be focused on their hit driven checkout titles.