Nine Out of Every 10 Doctors Prefer Print

A segment that hasn't abandoned magazines ... yet.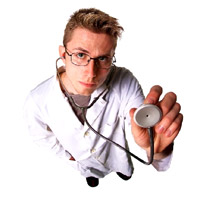 No matter what sector or industry you
are in, this is a great study to sell the value of print advertising.
The study—"What Doctors
Think"—documents how physicians prefer to receive their professional
information, and magazines top of their list. The study has
implications beyond just medical magazines because of the importance
and prestige doctors have. The study, with 231 physicians responding,
also covered a variety of other perceptions doctors have on the media
that serve them.
Use it on a call.
Talk about the importance physicians play in our society. Talk about
how, unlike almost any other profession, the information they receive
will impact life or death decisions. Then show them the chart. When
information absolutely must be accurate and trusted, magazines deliver.
There is another reason to use this study. On April 4th I posted on the just released MediaVest study
that measured the amount of trust consumers felt for different media in
four major categories. In the fashion, food, and entertainment fields,
magazines were found to be most trusted, but in health and wellness
onlline sources were tops. Michael Turro
posted a comment raising the concern that had print fallen behind with
readers in the only category "that could kill them." Cheer up print
reps! You can now use this study in conjunction with the MediaVest
study. While consumers may find online media in the health and wellness
field more trustworthy than print, doctors do not agree.
Download the entire "What Doctors Think" study here …
Meet the Author
---