Nina Link Discusses Her Departure from MPA

Says association is in "execution stage" of a rebranding, reorganization.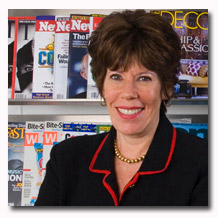 This morning, MPA announced that its president and CEO Nina Link will step down at the end of 2012. FOLIO: spoke to Link, following the news, to gain more insight into what this means for the association and the industry as it continues its unprecedented evolution, in the midst of trying to recover from severe economic strain.
December marks the end of a contract term for Link. "This has been my fourth or fifth contract, and that got me thinking," she says. "I felt this was a good time, that MPA would be in good hands with a great staff and a focused board."
According to Link, MPA is in the "execution stage" of a strategic rebranding and reorganization that she and the association have put in place over the past several years.
Link led MPA through one of the worst recessions in recent history. The organization itself experienced a 40 percent drop in revenue between 2006 and 2010, from 16.7 million to $10.1 million, according to IRS filings. Contributing to that was a dramatic slash in income from membership dues, from $10.1 million in 2008 to $5.4 million in 2010. The drop was caused mostly by a reduced membership fee, as the number of member companies was largely retained.
To cope with these challenges, MPA downsized from a staff number in the low 40s to, now, roughly 30. Remaining nimble, Link says, is key for the association to remain vital to the industry. Also key is a commitment to priorities—especially advocating for the industry in Washington, on issues such as postal reform.
"We've been instrumental in saving the industry hundreds of millions of dollars," she says. "We thought postal reform was done in 2007, and oh yes, here we are again."
Digital, of course, is another core focus—particularly working toward greater transparency and clarity in audience metrics, as magazine brands make headway onto new and emerging platforms such as tablets.
Link says her successor will need to provide thought leadership in evolving areas like social media and e-commerce, and provide a "strong voice supporting the power of magazine brands as they grow and expand." An executive recruiting firm, Blinkhorn, LLC, will conduct the search to fill her role.
Promoting the industry will be another crucial concern. Link cites the three-year, multi-million-dollar marketing campaign she launched in 2005 to promote the magazine medium as one of MPA's greatest accomplishments during her tenure. "Of course we hit the recession in 2008, but we made some real gains in share, and that's because the industry did work together," she says.
This industry-wide cooperation, she adds, is vital to its success: "Probably the most important thing that a trade association does—and it's so simple we forget—is that it convenes competitors in a place where they can talk about their issues."
Upon departure, Link will focus on reestablishing her consulting and product development firm, The Link Group, Inc.
"It's been a great thirteen years," Link says, "but it's certainly time for me to move on."
Meet the Author
---