Nielsen Sells Four Magazines to Interweave

Acquisition a "great expansion" for art publisher's portfolio, CEO says.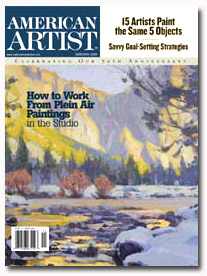 Craft and arts publisher Interweave—a unit of Loveland, Colorado-based Aspire Media—has acquired four arts-related magazines from Nielsen Business Media.
The deal includes Nielsen's American Artist, Drawing, Watercolor and Workshop magazines. Terms of the transaction were not disclosed.
According Aspire CEO Clay Hall, the four magazines and their franchises are "a great expansion" upon Interweave's current portfolio, and his team is "eager to begin offering advertising and marketing clients access to our expanded portfolio and other cross-media platforms. Our strategy is to build multi-media platforms around strong magazine franchises. Clearly, American Artist and its related publications fit like a glove with our mission and business strategy."
With a circulation of 41,000, American Artist was launched in 1937 and publishes 11 times per year. Drawing, Watercolor and Workshop magazines are quarterly.
Aspire's Interweave Press Publishing group includes 18 subscription magazines as well as several special-interest newsstand titles, and produces six annual craft enthusiast events.
Meet the Author
---