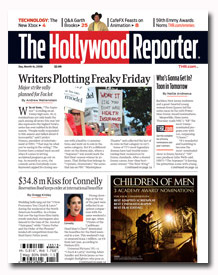 SEE ALSO: Nielsen Sells Travel Group Brands to Northstar Travel Media
Nielsen Business Media reported $84 million in net proceeds from the sale of its eight media/entertainment brands to e5 Global Media, according to its parent company's year-end 2009 earnings report which was released Friday. Nielsen, however, realized a loss on the sale.
"The sale resulted in a loss of approximately $14 million, net of taxes of $3 million," the company said in its 10-K filing. "The net loss included $10 million of liabilities for certain obligations associated with transition services that were contractually retained by Nielsen."
Overall, the Nielsen Company reported $116 million in operating income for 2009, compared to $421 in 2008. The results included a $527 million non-cash charge related to impairment of goodwill and intangible assets as well as $62 million in charges relating to restructuring costs.
In December, Nielsen agreed to sell The Hollywood Reporter, Billboard, Adweek, Brandweek, Mediaweek and Back Stage magazines, as well as Nielsen's Clio Awards and Film Journal International to e5, a  company formed by private equity firm Pluribus Capital Management and financial services firm Guggenheim Partners. Financial terms of the deal were not disclosed, although it was rumored at the time to be priced at approximately $70 million.
At the same time, Nielsen said it was shutting down Editor & Publisher and Kirkus Reviews. It later sold E&P to Irvine, California-based boating magazine publisher Duncan McIntosh Co. Inc., and Kirkus Reviews to Herb Simon, chairman emeritus of the Simon Property Group and owner of the Indiana Pacers basketball team.
Nielsen also is said to be shopping its travel group. Secaucus, New Jersey-based Northstar Travel Media is rumored to be among the group's potential suitors. CEO Tom Kemp did not immediately return requests seeking comment.