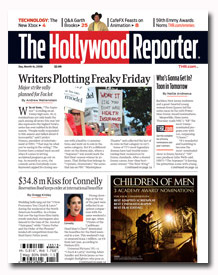 While the company continues to explore its options, Nielsen Business Media said Thursday that it will not shut down the print edition of The Hollywood Reporter. The statement is in response to a Deadline Hollywood report that Nielsen is getting ready to move the brand online-only later this year.
"We continue to look at the best way to serve our readers but there are no plans to shut down the print edition," a Nielsen spokesperson told FOLIO:.
In the report, Deadline Hollywood's Nikki Finke—who directly competes with THR—indicated that the trade publication was set to close in print on October 16 but that the date had been "moved back."
Finke also reported that Reed Business Information has decided to move to a paid model for fellow trade title Variety's Web site, Variety.com. The move is expected to happen in early 2010.
"We've been discussing internally for several months, like so many other publishers are, that producing content and giving it away for free online isn't a viable business model," Variety publisher Brian Gott told FOLIO:. "Our feeling is that we should allow our users to pay one subscription rate and be able to access our content any way they want. At the end of the day, our content should be paid for."
Gott said Variety is still working out the details of the subscription model. Right now, an annual print subscription to Variety costs $329.