Nielsen's Back Stage Combines East, West Editions

National edition of actors trade magazine will have circ. of 25,000.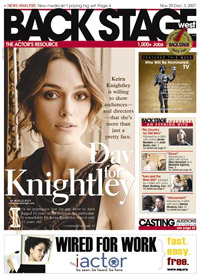 Back Stage East and Back Stage West—the weekly New York and Los Angeles entertainment industry magazines for aspiring actors—have been combined into one national edition, publisher Nielsen Business Media announced Friday.
"This is the first step in the transformation of Back Stage as we re-position the brand to maintain our leadership position in our vertical in print, digital and face-to-face,"  Backstage vice president Jeff Black said in a statement.
Back Stage East, which was launched in 1960, had a circulation of 15,000. Launched in 1994, Back Stage West carried a 10,000 circ. The national edition will effectively combine both circulations to 25,000.
"We responded to our advertisers' desire to reach a broader audience and our readers' desire to receive news, information and resources that are relevant to both coasts," a Nielsen spokesperson wrote in an e-mail to FOLIO: "Actors today are bicoastal, so New York-based actors are just as interested in reading about casting notices and other opportunities in Los Angeles as they are about ones in New York, and vice versa."
The combination of the two editions was not made due to financial difficulties at the magazines, according to the publisher. While declining to offer specific figures, the spokesperson said ad revenue at Back Stage is ahead of budget in 2008.
Earlier this year, Back Stage launched a weekly digital edition of the magazine. Today, the online version has about 25,000 paid subscribers.
Meet the Author
---