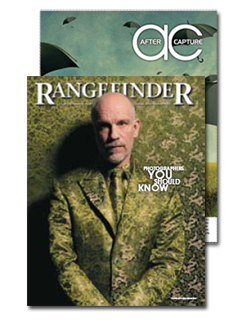 The Nielsen Company has agreed to purchase two photo industry magazines and a related trade show from Rangefinder Inc.
The magazines included in the deal are Rangefinder, which targets wedding and portrait photographers, and AfterCapture, a magazine covering post-production photography work. Rangefinder is published monthly with a 60,000 circulation. AfterCapture is published six times a year and carries a 38,000 circulation.
A Nielsen spokesperson says the company will continue to publish both magazines in print.
The trade show Nielsen is acquiring in the deal is the Wedding and Portrait Photographer International Trade Show. Launched more than three decades ago, the event serves wedding and portrait photographers and features exhibitors like manufacturers and sellers of photography equipment, lab services and photography software. It's produced annually in Las Vegas and attracts about 15,000 attendees.
The deal comes after about a year during which Nielsen spent either shutting down or selling off many of its print magazine products. "We are continuously evaluating acquisition opportunities," the Nielsen spokesperson says. "As we've said previously, Nielsen remains committed to the trade show group and related assets, which include print and online brands."
According to Nielsen, the magazines and tradeshow will continue to be produced in Los Angles and be overseen by founder Steve Sheanin and Nielsen Expositions senior vice president Joe Randall. The properties will be managed under the Nielsen Photo Group, which includes Photo District News (PDN), PhotoPlus Expo (PPE), PDNedu, Independent Photography Network (IPN), PhotoServe.com, and PhotoSource.