Nielsen Business Media Revenue Dips

Parent company total revenue up 12 percent in first half.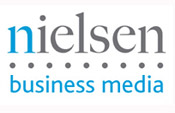 The Nielsen Company, parent of Nielsen Business Media, reported first half revenue of $2.5 billion, up about 12 percent from $2.2 billion during the first half last year, according to its 10-Q report filed today with the Securities and Exchange Commission. The company posted a net loss of $67 million, down from $135 million during the same period last year.
Second quarter revenues this year were $1.3 billion, up about 12 percent from the same period in 2007.
Nielsen's Business Media segment, which publishes Billboard and the Hollywood Reporter, among others, reported $253 million in revenue over the first half of 2008, down about 3 percent from $261 million during the same period last year.
The Business Media segment accounts for roughly 10 percent of the company's overall revenues. Nielsen's other segments-Consumer Services and Media-accounted for 57 percent and 33 percent of overall revenue, respectively.
As of June 30, 2008, according to the filing, the Nielsen Company carries a total debt of $8.7 billion and has $403 million in cash balances.
In April, Nielsen Business Media laid off several staffers as part of a previously announced restructuring effort. In June, the company sold four arts-related magazines to Aspire Media's Interweave Press.
Meet the Author
---