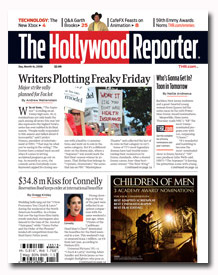 Nielsen Business Media has agreed to sell eight of its media brands, including a number of its trade magazines, to e5 Global Media, a new company formed by private equity firm Pluribus Capital Management and financial services firm Guggenheim Partners.
The sale agreement includes The Hollywood Reporter, Billboard, Adweek, Brandweek, Mediaweek and Back Stage magazines, as well as Nielsen's Clio Awards and Film Journal International. Also being sold is the Film Expo Business, which includes the ShoWest, ShowEast, Cinema Expo International and CineAsia trade shows.
Financial terms of the deal were not disclosed, although it was rumored to be priced at approximately $70 million.
In addition, Nielsen said Thursday that it is ceasing operations for Editor & Publisher and Kirkus Reviews. UPDATE: A Nielsen spokesperson said that while the company has no immediate plans for other changes to its trade magazines, it will continue to "assess the remaining publications to make sure we are focused on businesses with the highest potential for growth."
According to e5 Global Media, the company is committed to adding "financial and strategic resources" to the Nielsen properties to add "enhanced content across their print, online and new media channels and to continue to deliver value to their subscribers and advertisers."
It was not immediately clear if all of the trade magazines will continue to be published in print or if any layoffs were associated with the deal. A Guggenheim Partners spokesperson did not immediately return a request for comment.
"This looks like it will be an excellent acquisition for Pluribus," DeSilva + Phillips managing partner Reed Phillips told FOLIO:. " I think they're buying at the low-point in the market and these properties are in a good position to rebound now that the economy is getting back on track."
Nielsen Business Media president Greg Farrar said in a statement that the divestiture allows the company to "focus its investment on its core businesses and those parts of our portfolio that have the greatest potential for growth, including our leading trade show group."
Pluribus Capital was founded by James A. Finkelstein, who has been said to have been pursuing the Nielsen media properties for several weeks.