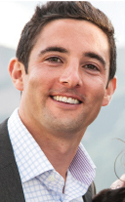 Executive Digital Director, FoodandWine.com &
TravelandLeisure.com
American Express Publishing
Age: 29
Takeaway:Within a year at American Express Publishing, Nick Van Sicklen has been responsible for a year-to-date 52 percent increase in digital ad sales, adding 20 new advertisers. That success led to his current, newly-created position of executive digital director of both Food & Wine and Travel + Leisure.

Nick Van Sicklen has only been at American Express Publishing for just over a year and he's already made his mark. After boosting ad revenues for Food & Wine's digital assets by 52 percent, he was promoted to a newly created position that oversees digital sales for Food & Wine and Travel + Leisure—including the websites, email, social and mobile. Central to his success have been programs that leverage content along with branding.
Key campaign wins include a program for Royal Caribbean International, which ran video content across both FoodandWine.com and TravelandLeisure.com as well as some Time Inc. brands (the two companies share some ad sales efforts across brands). The program featured culinary experts selected by Food & Wine partnered with on-board Royal Caribbean chefs and was the first time the brand blended its content with that of an advertiser's in a video format.
Van Sicklen also oversaw the development of a cocktail app in partnership with Belvedere Vodka that features 400 cocktail recipes and to date has had more than 100,000 downloads.
Content has become a core element of Van Sicklen's approach to sales—a keen observation in today's media world where brands are increasingly interested in integrated programs that leverage content, rather than simple branding. "Our editors say it best," says Van Sicklen. "We have a ton of content and create it in different ways and push it out in different ways to speak to our audience."
Digital, however, is becoming the core platform from which broader programs are often centered on. "We're starting to see online drive offline and many more integrated programs that use both," he says.