Nick Palazzo

Co-Founder and co-CEO | Stack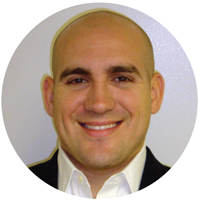 A 2003 cum laude graduate of Harvard University, Nick Palazzo also finished among Harvard football's all-time leading rushers and scorers. Palazzo wanted to turn pro, but was hampered by injuries he had suffered in his junior and senior years.
After graduation, Palazzo started a new training regimen with his buddy Chad Zimmerman, a top student-athlete at Carnegie Mellon University.
"As we started to work with pros, we realized our training in the past had been incorrect and we didn't realize our potential," says Palazzo.  "We thought, wouldn't it be great to get this information from star athletes and their trainers to student athletes en masse?"
Palazzo and Zimmerman founded Stack LLC in 2005, which in the last four years has become a hit with male athletes aged 12-24 (and their coaches) hungry for information on sports training and lifestyle.
Beginning with Stack, a bimonthly whose circulation has grown to 800,000 from an initial rate base of 300,000, stack.com launched in May 2007 along with STACK TV, an online video platform with eight channels of originally-produced content.
In May 2008, Palazzo integrated Stack's digital assets to launch Stack Media, in partnership with Eastbay.com, to sell advertising across its sites. By December, Stack had climbed to no. 9 of the top 10 sports Internet properties, with over 4.9 million unique visitors in the U.S., according to comScore. Advertisers include the U.S. Army, Gatorade, Nike and Reebok.
Palazzo says Stack is winning a big audience because it gets to the heart of young athletes who aspire to go pro—rather than covering lists and statistics that saturate the news. "When I was young, I wanted to know how to be [Hall of Fame running back] Barry Sanders," Palazzo says. "That's the kind of information young athletes want. We're not a who's-who, we're a how-to."
VITALS: Stack Media is among the Top 10 Sports Internet properties, with 4.9 million unique visitors.
Meet the Author
---