Niche Media's Hamptons Magazine Boasts Largest Issue in Publisher's History

July 4 issue totals 446 pages, with advertising up 25 percent.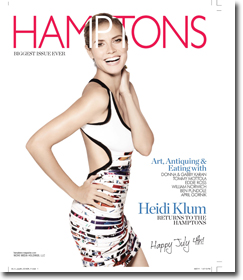 While Newsweek's July 4 "Diana" issue may have been a disappointment on the advertising side, regional title Hamptons Magazine claims its July 4 issue was the largest not only in the magazine's history but also the largest in the history of publisher Niche Media.
The issue totals 446 pages and nearly three pounds with advertising revenue up 25 percent over last year. The issue features 70 ad pages from real estate and shelter clients (with that category up 25 percent as well).
Niche says its other regional "luxe" titles are also performing well, with Ocean Drive up 23 percent in ad revenue, Los Angeles Confidential up 43 percent and Michigan Avenue up 32 percent over last year.
Last December, Niche founder Jason Binn transitioned to the role of chairman while then-COO Katherine Nicholls took over as president and CEO. Niche sold to Greenspun Media Group in 2007.
The regional "luxe" model–glossy, high-end magazines freely distributed to select demographics, hotels and retailers–were all the rage in the city and regional market five years ago, boasting big city glitz and fat books full of ad pages from high-end national and international brands.
However, the economic downturn, too few local advertisers (and the subsequent private equity woes affecting publishers in all categories) took a toll on the market. While Greenspun shuttered titles such as Atlanta Peach and at one point laid off 10 percent of its workforce, the company seems to have endured better than peers like Modern Luxury (which lost CEO Michael Kong after GE Financial Services took over the company; Kong sued Modern Luxury just as the company agreed to a sale to Dickey Publishing) and 944 Media, which filed for Chapter 11 bankruptcy protection before selling its assets to Sandow Media in February (Sandow shuttered 944 Magazine last month).
Meet the Author
---