Layoffs at Philadelphia Style

Cuts come on heels of reported layoffs at Niche Media owner Greenspun.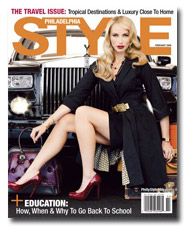 New York-based luxury magazine publisher Niche Media laid off a number of editorial and creative staffers at Philadelphia Style Monday.
According to a report in the Philadelphia Daily News, Niche Media CEO Jason Binn declined to offer details like how many employees were let go but indicated that publisher John Colabelli and editor Sarah Schaffer will remain with the magazine. Binn told the paper: "We've had to accelerate the realization of our operating efficiency." He said he plans to increase the magazine's frequency from six issues per year to eight.
Binn could not be immediately reached for comment.
In April, Niche Media purchased DLG Media Holdings, publisher of lifestyle and fashion magazine Philadelphia Style and online publications DC Style and ACConfidential.com, from Dana Spain-Smith.
Last fall, Niche Media finalized an agreement that effectively unified its operations with controlled circulation publishers Greenspun Media Group and the Ocean Drive Media Group. Las Vegas-based Greenspun was said last week to have reduced its workforce by 10 percent.
Meet the Author
---