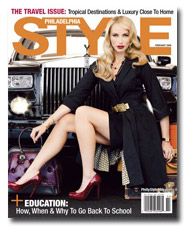 Niche Media founder and CEO Jason Binn has purchased DLG Media Holdings, publisher of lifestyle and fashion magazine Philadelphia Style, and online publications DC Style and ACConfidential.com.
Owner Dana Spain-Smith, also the magazine's COO, announced the deal to staffers shortly after 5 p.m. Monday. "I am very involved in new media (texting, e-newsletters, the online community) and am consulting for developing other companies' new media. I sold to further the brand and to concentrate on my consultancy," Spain-Smith explains in an e-mail to FOLIO:. Terms of the deal were not disclosed, although Spain-Smith described the sum as a "generous offer."
Binn did not immediately return a request for comment.
Niche Media Holdings' portfolio of luxury magazines includes Aspen Peak, Capitol File and Los Angeles Confidential. Philadelphia Style, which already is targeted to upper-income readers, will now reach readers with household incomes of more than $250,000. The magazine will relaunch under Niche Media with its May issue and will maintain its 70,000 circulation.
Last fall, Niche Media finalized an agreement that effectively unified its operations with controlled circulation publishers Greenspun Media Group and the Ocean Drive Media Group.