Next Issue Media Offers Preview on Samsung Galaxy Tablet

Official launch slated for "later this year."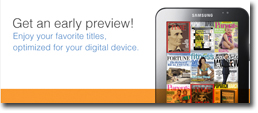 Next Issue Media–the digital publishing consortium and marketplace that includes some of the industry's largest players in Conde Nast, Hearst, Meredith, News Corp. and Time Inc.—is offering a preview of its service on the 7-inch Samsung Galaxy Tab. Esquire, Fitness, Fortune, Parents, Popular Mechanics, The New Yorker and TIME are the titles currently working with Next Issue.
The company claims it will launch officially launch its marketplace later this year (last year Next Issue Media said it planned a first quarter 2011 launch). Next Issue Media has not been able to reach an agreement with Apple and remains compatible with Android-devices only. (In April, Apple filed a lawsuit against Samsung, claiming patent infringement, false designation of origin and unfair competition against Samsung's Galaxy line of smart phones and tablets.)
While the preview is not offered on a particularly prominent device at this point, it's a start. Next Issue Media named a "Silicon Valley dream team" last fall but has consistently pushed back launch dates while offering little information for publishers beyond its founding members. "I didn't get a good sense of where they were going or how this could eventually work for us," one enthusiast publisher told FOLIO: in response to a presentation by Next Issue CEO Morgan Guenther at MPA's American Magazine Conference last October.
Meet the Author
---