Next Issue Media Launches Unlimited Digital Mag Access Plan

'Netflix' model allows customers to read up to 32 different titles.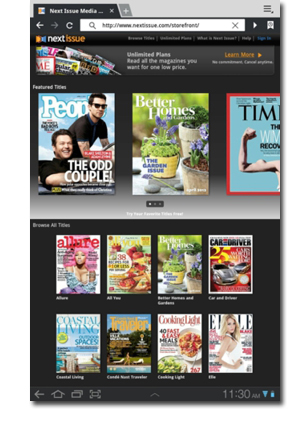 The 'Netflix for magazines' concept is back. Next Issue Media has rolled out a new digital newsstand subscription plan and app for tablet magazines that allows customers to pay a flat monthly fee for unlimited access to a collection of, so far, 32 titles.
For the $10.00 per month basic plan, customers have access to 27 titles from NIM's consortium of 5 publishers—Condé Nast, Hearst, Meredith, Time Inc. and News Corp—including Better Homes and Gardens, Esquire, Real Simple and Vanity Fair. So far, News Corp has not contributed a title in the plan.
For $15.00, customers get the premium plan, which includes five weeklies: Entertainment Weekly, People, Sports Illustrated, The New Yorker and Time.
The plan is being promoted with a free 30-day trial for first-time customers. Access includes the ability to choose freely among the selections.
Beyond the 32-title inventory, there are some other initial limitations. The magazines are only available for Android tablets. The company says it's submitting the newsstand app to Apple "in the coming weeks."
More titles are expected to be added later in the year, but NIM says it will maintain a more curatorial approach to selection. The focus will be on magazines that have mass appeal, rather than going for catalog depth.
The newsstand app allows customers to store the majority of their selections remotely in the cloud while keeping others locally on their device. Another cool feature is the ability to access and read titles from within the same app.
Just thinking about how the royalty breakdown under this plan will work out among the five publishers—and those that may join in the coming months—is enough to give you a headache. The concept is clearly a no-brainer for customers, but how publishers will divvy up each monthly fee is unclear.
When TIme Inc. launched its short-lived Maghound service in 2008, which in some ways may have influenced NIM's approach, customers also paid a monthly flat fee for multi-title selections, but since that was for print issues, publishers could easily be paid for each title sold/selected. In NIM's digital model, access to all 32 titles is seamless, making royalty sharing a more difficult concept.
Meet the Author
---