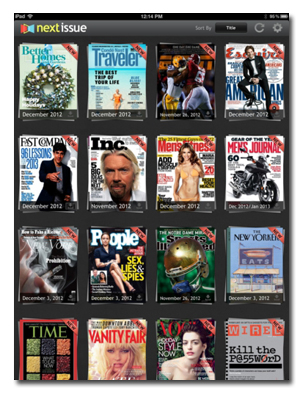 Next Issue Media, the company behind the unlimited magazine app Next Issue, is a joint venture formed by five of the largest domestic publishers—Condé Nast, Hearst, Meredith, News Corp. and Time Inc. To offer readers more options, the company announced Thursday that it is expanding its iPad catalog beyond these five companies. The new offerings will include magazines from publishers like Mansueto Ventures, New York Media and American Express Publishing, among others.
The new titles added to the Next Issue catalog include: ESPN The Magazine, Fast Company, Food & Wine, Men's Fitness, Men's Journal, New York Magazine and Travel + Leisure. These new additions increase the total number of titles to 80, up from 72.
"For Fast Company and Inc., part of our brand strategy for both magazines is that we want to be available everywhere fine magazines are sold," says Anne Marie O'Keefe, consumer marketing director at Mansueto Ventures. "Next Issue Media is a really exciting, interesting platform. We wanted to make sure we could be included in that as well."
O'Keefe says that the process for getting into the catalog was fairly easy—Mansueto worked with its printer to format their completed magazine files for the Next Issue app and sent them directly to the company to be included. Next Issue will be providing the publisher with audience reports on who is reading Fast Company after about a month.
"We had a couple conversations about how the platform worked and we discussed their expansion and marketing plans," adds Kenneth Sheldon, executive director of audience development at New York Media, which publishes New York Magazine. "New York Magazine is also on the NOOK and Kindle so it was a similar process. It was essentially the same process for our other digital editions—I think the whole process took just a few weeks and it wasn't a lot of work during that time either."
Sheldon says the title is now in a contract with Next Issue, though he could not discuss details of the contract as it relates to revenue sharing A basic Next Issue plan is $9.99 a month for unlimited access to 73 titles or $14.99 a month for unlimited access to 80 titles.
"This was a company formed and created by publishers so I think that's one of the many reasons why this was a simple process," adds Sheldon. "They were very publisher-friendly because they are publishers. They understand magazines, what it is to be a weekly instead of a monthly and that there is some lead times for certain things. Even thinking ahead to the customer service of how people are used to dealing with magazines—they've gone through all that thinking, they've been up for a while and they have all the top publishing houses in the fold so there's a lot of learning and background there."
Stay updated on the latest FOLIO: news, follow us on Facebook & Twitter!