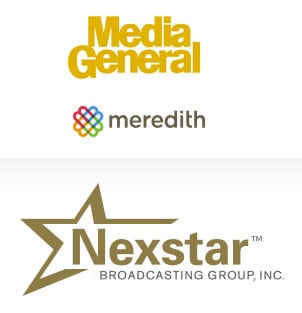 The Nexstar Broadcasting Group could scuttle Media General's deal to buy a majority stake in Meredith Corp. through a bid announced today to acquire Media General for $10.50 per share. The transaction, including debt, would value Media General at $4.1 billion.
The offer comes three weeks after Media General announced it was buying a 65 percent stake in Meredith Corp. for $2.4 billion. According to those two companies, the deal will create the third-largest owner of network affiliates, with 88 stations in 54 markets. Meredith CEO Stephen Lacy is in line to lead the combined entity.
The Nexstar bid, delivered to Media General as a letter, describes the Meredith deal as "ill-conceived" and contends that a Nexstar/Media General merger would offer even bigger scale—162 stations in 99 markets versus 82 stations in 54 markets.
Importantly, Nexstar is positioning the deal as a "pure-play" broadcast deal, without any ownership of publishing assets.
"The ill-conceived Meredith transaction, which caused an immediate drop in Media General's stock price and criticism from a number of your investors and analysts, exposes Media General once again to the publishing business and creates a pro-forma EBITDA mix with significant exposure to publishing. Were you to engage with us, we believe you could deliver significantly more value to your shareholders," says the letter.
In an effort to focus on its broadcasting assets, Media General closed on a deal to sell 63 daily and weekly newspapers to Berkshire Hathaway in 2012 for $142 million in cash.
And the deal with Meredith, which is expected to close next June, is largely viewed as a broadcast-oriented deal leaving industry watchers to wonder what Media General would end up doing with Meredith's National Media Group.
Lastly, Nexstar claims it would be the better steward of the broadcast assets. "Importantly, our team is committed to the Media General combination and will 'own' the results and synergies," says the letter. "This is in sharp contrast to the Meredith transaction where the Media General management team is 'handing over the keys' to the Meredith management team."
Update: Media General issued a statement acknowledging it received the unsolicited proposal from Nexstar:
"Consistent with its fiduciary duties, the Media General Board of Directors, in consultation with its legal and financial advisors, will carefully review and consider the proposal to determine the course of action that it believes is in the best interests of the Company and its shareholders," says the statement. "Media General shareholders are advised to take no action at this time. Media General will have no further comment on the proposal until the Board has completed its review."
Meanwhile, according to the statement, Media General's board of directors "continues to recommend the proposed transaction with Meredith."