Newsweek's Statement on Buyouts

111 of 150 staffers offered exit walk.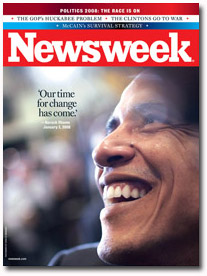 I just got an e-mail from a spokeperson for Newsweek confirming that 111 of the 150 staffers offered buyouts are leaving the magazine. They're calling it a "voluntary retirement program."
Here's Newsweek's statement:
"Confronting the challenges in today's media climate, we recently offered a voluntary retirement program to some of our employees. We were fortunate to be able to provide generous packages for eligible staffers who wanted to move on, while also saving on some of our existing expenses. A number of the familiar faces who accepted the offer, including David Ansen, David Gates, Cathleen McGuigan, Mark Starr and John Barry, will continue to contribute to the magazine and Newsweek.com. And, of course, Newsweek remains home to Jonathan Alter, Sharon Begley, Ellis Cose, Chris Dickey, Howard Fineman, Daniel Gross, Mark Hosenball, Mike Isikoff, Melinda Liu, Johnnie Roberts, Evan Thomas, Fareed Zakaria, Anna Quindlen , George Will and many other star journalists. New voices will be joining Newsweek too. We will continue to invest in Newsweek, newsweek.com and other new ventures, which collectively will strengthen our company's long-term health and vibrancy. We are committed to producing the compelling, innovative and news-breaking journalism that has defined Newsweek for its 75-year history."
Meet the Author
---