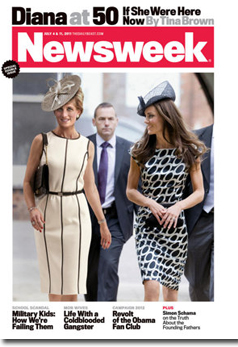 Newsweek's July 4 cover featuring a simulated Princess Di next to Kate Middleton as part of piece in which editor Tina Brown imagines the late princess at age 50 (an illustration of Diana holding an iPhone is part of the package) provoked critics who claimed the image was in poor taste but the issue also underperformed with advertisers just as Newsweek seemed to be gaining traction on the business side.
The issue had just 13.8 ad pages, making it the weakest advertising issue for Newsweek since May 16, according to MagazineRadar, which points out that the low number is especially hurtful because it's a double issue. Newsweek's last double issue (June 13) boasted 27.3 ad pages.
While newsstand sales remain to be seen, the July 4 anchor comes just after Newsweek posted its most consistent advertising performance of the year in June, with an average of 24.5 ad pages per issue, according to MagazineRadar.