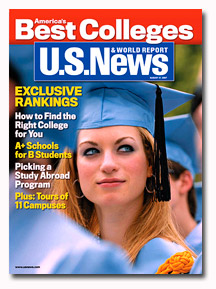 The newsweekly category continues to churn—and cut rate base. U.S. News & World Report is reportedly the latest to lop a chunk of rate base as well as cut frequency. The magazine adjusted rate base from 2 million to 1.5 million and frequency from 46 issues to 36, according to a Mediaweek report.
The magazine declined to comment.
Newsweeklies, perhaps more than any other magazine sector save for technology titles, have been under constant pressure in recent years to change as the big three (Time, Newsweek, U.S. News) retool their print designs, rate bases, print dates—anything, it would seem, to adapt to the digital age.
Time and Newsweek have already both gone through rate base reductions of their own. Time was the first to go in early 2007, slashing its circulation from 4 million to 3.25 million. Newsweek followed later that year, trimming 16 percent to 2.6 million.
And the changes didn't stop there. Time went on to shift its on-sale date from Monday to Friday, boost its newsstand price by $1, and significantly redesign both the magazine and Web site.
'Net Effect
The actions reflected the impact the Internet has had on the category, and how the publishers have struggled in taming the dynamic between the print and digital products. As Time's managing editor Richard Stengel said at the 2008 DMA Circulation Day event recently: "There's no news that breaks in print anymore. Print takes the facts and adds insight. Online is for the 'what' and print is for the 'why'. The magazine puts it in context and that's why we see them as complementary brands."
Newsweek also unveiled a redesign of both the magazine and Web site around the time it cut its rate base. "Some people in our business believe print should emulate the Internet, filling pages with short, Web-like bites of information," editor Jon Meacham wrote in his editor's note announcing the redesign. "We disagree. There is a simple idea behind the changes in the issue of Newsweek you are holding: we are betting that you want to read more, not less."
As for U.S. News & World Report, this latest move is another in a long series of changes for the magazine. In 2005, U.S. News president Bill Holiber announced a strategic shift away from print to focus more on Web business, giving print room to provide more analysis—and letting Time and Newsweek fight for a broader readership.
"At times it may come across as being not the most exciting product, but it's a very well-thought-out, information-driven product," Holiber said. "As we move in this direction, I think you'll see more information on the page. I think Time and Newsweek are battling it out, trying to be all things to all people. They want to be big—very, very big. We've found there's a certain type of consumer we attract, and that's who we're focusing on: 'Give me the facts, I'll decide.'"
However, with the appointment of Brian Kelly to editor a year ago, the magazine has moved decidedly in the direction of more service journalism, ramping up its production of "Best-of" issues.
And, as it turns out, no one wants to be very, very big anymore.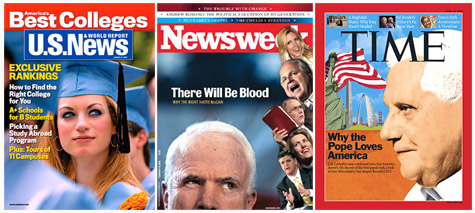 A Tumultuous Time(line) for Newsweeklies
2007

January: Time cuts rate base, raises cover price.
March: Time magazine debuts redesign.
October: Newsweek unveils redesigned magazine and Web site.
November: Newsweek cuts rate base.

2008

April: U.S. News & World Report cuts rate base, frequency.
Newsweeklies by the Numbers
TITLE
TOTAL
PAID & VERIFIED
RATEBASE
NEWSSTAND
Newsweek
3,109,228
2.6M*
92,576
Time
3,351,872
3.25M
107,277
U.S.
News
2,038,037
1.5M*
33,757

SOURCE: ABC 2007 December Publishers Statements
* Reflects cuts post-2007 Publishers Statement