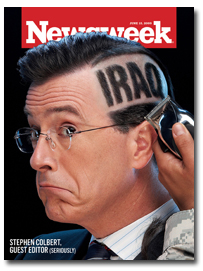 When I first heard that editor Jon Meacham got Stephen Colbert, the fake talk show host, to guest edit the New Newsweek, I thought, "Hey, that could be pretty funny."
Then I thought about it a little more. "Wait, this is Newsweek—a real, non-fake news magazine." Wouldn't it be a little like getting Sacha Baron Cohen, in "Borat" character, to guest-edit Travel + Leisure? Colbert is, after all, a character, although the degree to which his character's satire differs from his own can be debated.
Then I thought, "Oh, who cares? It's just a magazine."
Well, Meacham cared enough that he felt the need to explain the joke to readers: "Everything he did in character is signed, so there should be no confusion about what is NEWSWEEK and what is Colbert."
Colbert, for his part, opens the issue with some sharp satire on Iraq, the state of the magazine business—and one bullet aimed directly at rival Time and its cover story this week on Twitter.
Via Colbert's editor's note:
When Jon Meacham asked me to guest-edit NEWSWEEK, I jumped at the chance, particularly because my guest editorship at Mature Honeys fell through. I guess my photo essay of sexy housewives reenacting the Battle of Fallujah was too "real" for them.

Of course, guest editing is more than just sitting around tanning myself by the gleam of Fareed Zakaria's teeth. I set the editorial agenda, assigned stories and yelled at Peter Parker to get me more photos of that web-slinging vigilante, Spider-Man. He's a menace!

I took advantage of my powerful new perch and published all my letters to the editor that NEWSWEEK had rejected, provided my Conventional Wisdom, took a red pencil to Meacham's editorial foofaraw and took the bias out of the columnist bios. Most important, I sent NEWSWEEK's reporters to find out whatever happened to Iraq. Unfortunately, this meant cutting the cover story they had planned: "Hey, Have You Heard About This Thing Called 'Twitter?'"
I'm not entirely sure how I feel about Newsweek turning over its magazine to a character to report on the War in Iraq. I'm not totally against the idea, although I might feel differently if one of my loved ones was included among the 4,232 dead or 30,000-plus wounded there.
But Colbert is filming his Report in Baghdad this week. (As the New York Times notes, it's the "first time in the history of the U.S.O. that a full-length nonnews show has been filmed, edited and broadcast from a combat zone.") And he's donating proceeds from iTunes downloads to donorschoose.org for school supplies for soldiers' children. And he's putting a spotlight on a war that we (or I, regrettably, often) forget about.