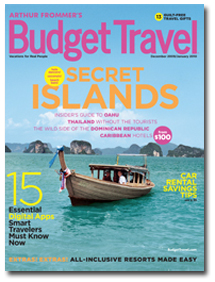 After a difficult 2009, Washington Post Co. subsidiary Newsweek Inc. has entered into an agreement to sell its equity interests in Arthur Frommer's Budget Travel magazine.
The buyer is said to be an affiliate of investment advisor Fletcher Asset Management. The deal is expected to close before the end of the year. Financial terms were not disclosed.
Fletcher, in a statement announcing the deal, said it planned to keep "essentially all" of the employees at Budget Travel and budgettravel.com, including its current management team.
It was not immediately clear what Fletcher's specific plans are for the print magazine and Web site. A Fletcher spokesperson could not be immediately reached for comment.
Like so many other magazines, Budget Travel saw its ad pages plunge in 2009, dropping 28.1 percent through September, according to PIB figures. Last month, it was rumored that the magazine was shutting down altogether.
Newsweek acquired Budget Travel in late 1999 from Group XXVII Communications LLC. The magazine currently publishes 10 times a year and carries a rate base of 675,000.