Newsweek's Zakaria Defects to Rival Time

Also steps up relationships with Time Warner's CNN, HBO.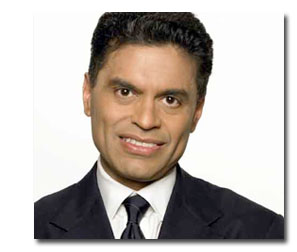 Newsweek International editor and CNN host Fareed Zakaria is leaving the magazine to join rival Time as editor-at-large starting October 1. Zakaria will have a regular column and will contribute cover stories and features in the print magazine and on Time.com.
Zakaria [pictured] also has renewed his association with CNN and will continue to produce his weekly show, "Fareed Zakaria GPS," as well as several other special reports annually, sister company Time Inc. announced Wednesday. In addition, Zakaria will serve as a consultant for HBO's documentary unit.
Time Inc., CNN and HBO are all owned by parent company Time Warner.
Responsible for overseeing the Newsweek's editions abroad, Zakaria has been the editor of Newsweek International since October 2000 and has contributed a regular column to the U.S. edition. Prior to joining Newsweek, Zakaria served as managing editor of Foreign Affairs for eight years.
Earlier this month, the Washington Post Co. sold Newsweek to audio magnate Sidney Harman, who apparently intends to keep a majority of Newsweek's staff. Zakaria's departure eliminates him as a possible candidate to replace managing editor Jon Meacham, who has said he is leaving the magazine once the sale process is complete.
Meet the Author
---