In the wake of Newsweek's announcement that the company is ending production of its print magazine and transitioning to digital-only, many in the media industry were left wondering what would happen next.
Here, FOLIO: catches up with Rob Gregory, president of the Newsweek-Daily Beast Company, to get some insight on the decision to ditch print and what the brand will look like going forward.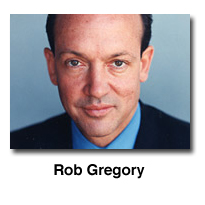 FOLIO: What is going to happen to Newsweek's print subscribers who don't own a tablet? Will they have Web access in some way?
Rob Gregory: That's a great question. First of all, we know that a very high percentage of our subscribers do have tablets and e-readers. We also know that base is expanding very quickly—there are already 70 million tablets and e-readers that have been sold, and this Christmas there will be new products with Google Nexus, the Kindle Fire and the new iPads. We think that the whole tablet ecosystem is growing very quickly, so that is something we're very optimistic about.
We will remain a paid subscription product and we have 44,000 paid digital subscriptions now, but we're just getting started. We are hoping that a significant percentage of our paid subscribers will embrace Newsweek Global in that form. They will also be able to get the content online so it won't be limited to mobile devices.

FOLIO: So will Newsweek Global on tablets and ereaders come in the form of an app or will it be accessible just through a browser?
Gregory: The latter. We're looking at all of these variables right now. A lot of the data shows that most people still get their news through browsers. This is a very dynamic space and we're still a couple months away from launching it. There are some aspects of it that we're still figuring out.

FOLIO: Will it be a responsive design site?
Gregory: Yes, we are planning on a responsive design strategy so the look and feel of Newsweek Global, which is what we're calling it, will look and feel the same on the Web or a Kindle, Nook or iPad.

FOLIO: How are you pricing subscriptions?
Gregory: We're still working on that strategy. This is all uncharted territory so we believe we have the opportunity to be the biggest legacy magazine brand to make this transition. We think the audience can be several hundred thousand and that's as specific as we will get and can get right now.
FOLIO: What is happening with your print advertisers? How are you going to be making the distinction between the DailyBeast.com and Newsweek Global as a brand?
Gregory: The Daily Beast brand and the Newsweek brand each have their own point of view and sensibility. The Daily Beast is about attitude and the moment, while Newsweek is more about authority and tomorrow and what's next. That's a bit of an oversimplified characterization, but we want each brand to have its own identity and positioning in the marketplace, and for those identities to be distinct.
From an advertising standpoint, we are growing very fast on the Daily Beast. Our display ad revenue was up sharply this year and exceeded the pace of growth in the display ad market place pretty dramatically. We want to keep that going and bring more advertisers and premium brands on board with the Daily Beast.
On the Newsweek Global side, we will approach our best advertising partners first. The brands that have been working with us with the print edition of Newsweek, and the brands we partnered with on integrated buys and tent-pole programs, [we want to] have some sort of partnership conversations with them first when we roll out Newsweek Global.

FOLIO: How frequently will Newsweek Global be updated?
Gregory: The bulk of the content will be released weekly because it's still called Newsweek (emphasis original). The global business cycle pretty much works in the weekly cadence. Newsweek.com will continue to be accessible through the Daily Beast—there will be, obviously, opportunities to update content in real time when it makes sense. In general, we're approaching this from a weekly point of view.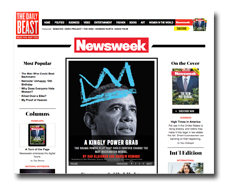 FOLIO: Within Newsweek Global will there be tabs for places like Latin America or the Middle East, Europe and Africa? Now that you will be a single, unified brand, how will you integrate different content perspectives from your global editions?
Gregory: The digital edition of Newsweek Global will be globally focused in content and it will be global in its distribution. We have a number of partnerships with publishers of non-English editions—license editions of Newsweek—and that is actually a growth business for us. There are a number of countries where the print category is growing robustly because it's just a different environment from the United States. In those countries, the brand will continue to live on print and we think we can actually launch in some new countries.
FOLIO: Will Newsweek Global be audited? Will there be any kind of digital rate base?
Gregory: One of the great things about the digital world is the ability to quantify almost everything. We expect our advertisers to want metrics and know as much as we can tell them about not only the size of our audience but also who they are and their roll as influencers and opinion leaders. We are still working out the exact procedure for measuring that audience and that is all I can say at this point.
FOLIO: What's been the response so far?
Gregory: The response has been overwhelmingly positive. We have had a number of senior clients, ad agency and media agency leaders that have said that they think this is the right move at the right time and that they are for it. There are obviously a lot of questions we have to answer in the next few weeks but people are really leaning into this and want to know more. We've actually been delighted with the response.
Stay updated on the latest FOLIO: news, follow us on Facebook & Twitter!