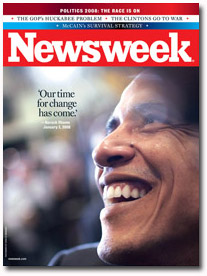 UPDATE: Staff to Be Cut at Newsweek, Too
Facing increased costs of postage and maintaining its circulation, Newsweek has been quietly considering a drop its circulation guarantee by a million copies or more, FOLIO: has learned.
Executives at Newsweek began discussing a rate base rollback as early as this summer, according to a pair of sources familiar with these discussions.
Both sources say that the magazine is considering slashing up to 1.6 million copies from Newsweek's current rate base of 2.6 million, which would put the magazine's rate base at 1 million.
Newsweek declined to comment.
"A million [rate base] was the extreme," said the source. But, as the year wore on, and the economic crisis worsened, "[they] didn't see a recovery."
'Thought Leader'
Aside from the cost of maintaining such a high circulation, Newsweek would like to transition from newsmagazine to "thought leader," something more akin to the Economist. "[Editor Jon] Meacham and [Time editorial director Richard] Stengel are both infatuated with the Economist," the source said.  "To get that 'thought leader' position, a million is the sweet spot." The Economist's rate base in North America is 714,000.
Such a drop in guaranteed circulation is not uncommon, particularly in the newsweekly category. Time cut its rate base by 750,000 copies in January 2007. Newsweek followed suit, dropping 500,000 copies from its circulation in November of that year. [SEE RELATED: Newsweeklies Continue Long, Slow Print Goodbye]
But a cut of this size is nonetheless risky. "To make that jump, you better increase your CPM dramatically," noted the source, "or you'll lose millions."
There's also public perception, and the risk of looking weak in the eyes of readers and advertisers. "One of the worries is they don't want to be seen as a U.S. News," said the source.
Circ Struggles
But such a cut may be inevitable, said newsstand consultant Baird Davis.
"As we all know by now U.S. magazine circulation has been greatly expanded over the last 20 years to meet rising advertising opportunities," Davis said. "This growth has been achieved largely by acquiring a much greater percentage of 'non-renewable circ' than publishers had previously employed." The expansion of non-renewable circ, combined with reduced reader demand has lowered circulation profitability and "reduced 'reader quality' for nearly all U.S. magazines." [SEE RELATED POST: Why it Makes Sense]
"The effects of these rather dramatic changes were partially camouflaged by a strong advertising climate," Davis said. "When the advertising bubble burst in '08—coupled with a steep increase in paper and postal expense—the industry's circ weaknesses were starkly exposed."
Another concern is Newsweek's newsstand sales ("a good barometer of reader demand," Davis said) which have fallen to 83,000 from 147,000 in 2004, according to the Audit Bureau of Circulations. Time's newsstand circulation has also fallen to 96,000, down from 163,000 four years ago.
"The question now facing many publishers is to find circ levels that are more commensurate with reader demand."
Paring Down, Ticking Up
| | | | |
| --- | --- | --- | --- |
| RATE BASE | 2006 | 2007 | 2008 |
| Newsweek | 3,100,000 | 3,100,000 | 2,600,000 |
| Time | 4,000,000 | 3,250,000 | 3,250,000 |
| Economist | 532,000 | 595,000 | 714,000 |

SOURCE: ABC, June publisher's statements