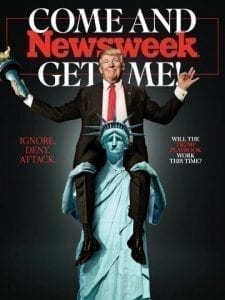 Newsweek has fired a reporter and says it's demoted an unnamed editor over "the failures that led to the publication of an inaccurate report" speculating about President Trump's Thanksgiving plans—prior to those plans being made public on Thursday afternoon.
Shortly after 10 a.m. ET on Thursday morning, Newsweek published a story by Jessica Kwong—a reporter at the magazine since 2017—with the headline, "How is Trump Spending Thanksgiving? Tweeting, Golfing and More."
"As with any other day of the year, Trump will probably be tweeting, or expressing his opinions in another way," Kwong's article originally predicted.
Kwong says the story was assigned to her more than a week in advance, and that her deadline was the day before Thanksgiving.
While purely speculative, the article wasn't specifically inaccurate at the time it was published, especially as far as articles purporting to forecast the future go, and Kwong says two different editors read the story before it went live on Thursday morning.
Trump did spend much of Wednesday tweeting and golfing at his Mar-a-Lago resort, tweeted "HAPPY THANKSGIVING!" on Thursday morning and took to both pastimes again on Friday. Four hours after the article was published, however, it was revealed that the President had taken a surprise trip to visit U.S. troops stationed in Afghanistan, a move kept highly secret in advance, in accordance with security measures.
By 2:40 p.m., some 30 minutes after the trip was first revealed by reporters accompanying the President on Air Force One, Newsweek published a new article covering the surprise visit, by a different reporter, James Crowley. But it wasn't until 6:17 p.m. that Kwong's earlier article was updated with a new headline and a note referencing Crowley's additional reporting.
Kwong noted the change on Twitter, writing, "Deleting this tweet because it was written before knowing about the president's surprise visit to Afghanistan—an honest mistake. Story has already been updated, as shown in the screenshot."
That lapse left ample time for the President's supporters to seize on the article Thursday evening as another example of left-wing media bias, rejecting Kwong's explanation.
"Fake news gonna fake," wrote Donald Trump Jr. in a tweet that was then amplified by his father's account at 8:25 pm, hours after the original story had been updated.
I thought Newsweek was out of business? https://t.co/3ro4eSJloo

— Donald J. Trump (@realDonaldTrump) November 29, 2019
By Saturday, Kwong had been fired.
"Newsweek investigated the failures that led to the publication of the inaccurate report that President Trump spent Thanksgiving tweeting and golfing rather than visiting troops in Afghanistan. The story has been corrected, the reporter responsible was terminated and the editor was demoted," reads a statement provided to Folio: by a Newsweek spokesman.
"We will continue to review our processes and, if required, take further action," the statement continues. "From the start of her tenure as editor in chief of Newsweek, Nancy Cooper has moved the newsroom toward strong reporting, such as the scoop on Baghdadi's killing, and away from knee-jerk political snarkiness. This story did not meet the standards she has set."
The spokesman declined to elaborate further on why Kwong was terminated or why its editors chose to frame the changes to Kwong's article as a correction, rather than an update, responding only with, "That's our full statement."
But Kwong says she was surprised to learn she had been fired, given that an editor had initially claimed responsibility and apologized to her for failing to update her story in a timely manner, and that two editors read it before it went live, including the one who published it.
On Twitter, former Newsweek staffers instead pointed the finger at the magazine's leadership, implying that Kwong was merely being scapegoated for a broader editorial strategy that allowed the article's publication to begin with.
"Newsweek threw one of its hardest working reporters under the bus for an error born out of poor editorial practices," wrote former senior culture writer Anna Menta.
The episode comes less than a year after Newsweek announced a partnership with The Poynter Institute for Media Studies, "to review and support newsroom standards, ethics and processes," appointing Kelly McBride, SVP and chair of Poynter's Craig Newmark Center for Ethics and Leadership, as editorial advisor.
"At a time when the public's trust of the media is at an all-time low, it's crucial for us to be transparent about our processes and explicit in our commitment to integrity," said Cooper at the time. "We look forward to working closely with Kelly to further support our dedication to quality journalism."