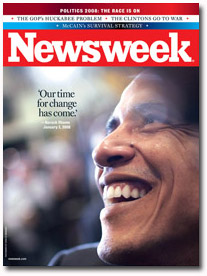 Newsweek said Monday that it will lower its rate base by a million copies early next year. The magazine plans to move its guaranteed circulation from 2.6 million to 1.9 million in July, and to 1.5 million in January 2010.
"Mass for us is a business that doesn't work," Tom Ascheim, Newsweek's chief executive, told the New York Times. "Wish it did, but it doesn't. We did it for a long time, successfully, but we can't anymore."
FOLIO: first reported Newsweek's planned drop in circulation in December.
SEE ALSO: Newsweek Mulls Dramatic Drop in Circulation
"A million [rate base] was the extreme," a source told FOLIO: of Newsweek's thinking last year. But, as the year wore on, and the economic crisis worsened, "[they] didn't see a recovery."
The magazine is also transitioning away from covering the week's news events to more of a "thought leader" publication akin to the Economist and the Atlantic.
"There's a phrase in the culture, 'we need to take note of,' 'we need to weigh in on,'" editor Jon Meacham told the Times. "That's going away. If we don't have something original to say, we won't. The drill of chasing the week's news to add a couple of hard-fought new details is not sustainable."
Newsweek said as part of its redesign, it will move to a heavier paper stock and "put more emphasis on photography."
During the second half of 2008, Newsweek's total paid and verified circulation fell 13.1 percent as paid subscriptions stumbled some 18 percent, according to the Audit Bureau of Circulations' latest Fas-Fax. Newsweek's ad pages, meanwhile, plummeted 19 percent last year.