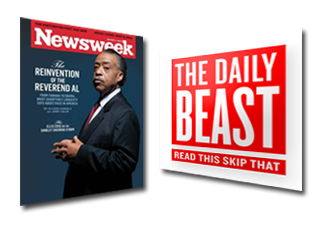 We've all heard by now the merger of The Daily Beast and Newsweek—tricked you, didn't they?—into The Newsweek Daily Beast Company, which everyone's already ignoring for the more fun variations of 'NewsBeast' and 'BeastWeek', etc. (How many games of rock-paper-scissors it took during that "coffee-mug toast" to determine the brand name order we'll never know.)
Speculation is now focusing on how the JV is going to overcome its combined losses—$10 million per year for The Daily Beast and $20 million for Newsweek. However, I'd like to know which Web site, TheDailyBeast.com or Newsweek.com, will get top billing at best and lights out at worst.  
The two are very different operations. Given the way they handled the equitable but awkward company name, it could be fair to assume a similar approach will be employed to create a DailyNewsweekBeast.com with a chalk line drawn down the middle of every page. A boisterous mix of culture/politics/celebrity on one side and a subdued mix of mass-appeal business/news/culture on the other.
However, given the positioning of the merger and the characterizations the principals are giving each other's companies, Newsweek.com appears to be grasping the short straw.
According to Ms. Brown in an official statement announcing the deal, the Beast is swooping in with its "vibrant versatility," the "metabolism" of which will "help power the resurgence of Newsweek." Newsweek, in turn, "amplifies the range of talent and audience The Daily Beast can reach."
Meanwhile, Newsweek is "venerable" with "journalistic depth." It's also, according to the statement, just a magazine. There's no mention of the brand's digital platform, a strange omission given all the hupla over the importance of Web savvy.
Again, in her own post on the merger, Ms. Brown says, "And for Newsweek, The Daily Beast is a thriving frontline of breaking news and commentary that will raise the profile of the magazine's bylines and quicken the pace of a great magazine's revival."
Newsweek.com who?
In this merger, all the digital cache belongs to The Daily Beast, even though Newsweek.com gets twice as many monthly uniques—10 million compared to The Daily Beast's 5 million, per company principals—and has a much more recognizable brand.
[EDITOR'S NOTE: The original headline of this post was "Is Newsweek.com the Odd Man Out?" But after posting we came across a NYT story in which new The Newsweek Daily Beast Company CEO Stephen Colvin says Newsweek.com will indeed be folded into TheDailyBeast.com.]