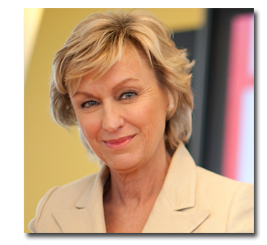 All the sleepless nights of media players and observers desperately wondering who would be appointed top editor at Newsweek can now come to an end. After the negotiations between the magazine's new owner, Sidney Harman, and Barry Diller, chairman of IAC and owner of Tina Brown's The Daily Beast, were said to have broken off, it was announced Thursday night that the parties have quietly come to terms on a 50/50 joint venture.
The new company, to be called The Newsweek Daily Beast Company, will be led by four directors: Harman as executive chairman, Diller and two others—one appointed from each side. As expected, Tina Brown will assume the role of editor-in-chief of both properties. Stephen Colvin, who currently serves as president of The Daily Beast, will oversee the combined venture as CEO.
According to a post by Brown [pictured], the merger was agreed on in principle on Tuesday night "with a coffee-mug toast between all parties … in a conference room atop Beast headquarters, the IAC building on Manhattan's West 18th Street."
"It's a wonderful new opportunity for all the brilliant editors and writers at The Daily Beast who have worked so hard to create the site's success," Brown says in the post. "Working at the warp-speed of a 24/7 news operation, we now add the versatility of being able to develop ideas and investigations that require a different narrative pace suited to the medium of print. And for Newsweek, The Daily Beast is a thriving frontline of breaking news and commentary that will raise the profile of the magazine's bylines and quicken the pace of a great magazine's revival. I'm impressed with how Newsweek's outstanding staff has continued to put out a lively, well-informed magazine after the departure of their tireless editor, Jon Meacham."
Of course, with a merger like this, many scenarios remain to play out. Will Diller assume half of the $47 million in liabilities Harman took on in the $1 Newsweek acquisition? How will the new company manage content across two news sites? Will Brown scrap Newsweek's latest redesign and come up with one of her own? How exactly will the staffing integration work itself out?
Will the personalities of Harman, Diller and Brown in fact mesh?
"In an admittedly challenging time, this merger provides the ideal combination of established journalism authority and bright, bristling Web site savvy," Harman says in a statement announcing the merger. "I like partnering with Barry Diller and I look forward to building our company with Tina Brown and Stephen Colvin."
Harman was advised in the merger transaction by Guggenheim Securities LLC. Harman's lead counsel was Williams & Connolly LLP while IAC was represented by Skadden, Arps, Slate, Meagher & Flom LLP.