Newsstand Wholesalers and Distributors

Choas nearly brought the industry to its knees.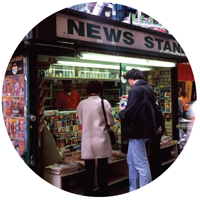 If nothing else, magazine distributors Source Interlink and Anderson publicly revealed just how broken the newsstand model is.
In a nutshell: earlier this year Anderson News and Source Interlink announcing a 7-cents-per-copy price hike. Time Inc. and national distributor Curtis Circulation refused to pay, Anderson folded, Source Interlink filed a lawsuit claiming it was the target of an alleged plot to run it out of business and Source was awarded a temporary restraining order in its lawsuit, meaning magazine copies had to be reconsigned, resulting in a deluge of shipping requests and changes swamping printers. That's resulted in many publishers producing and paying for copies that never saw a magazine rack, with observers predicting the effects could last anywhere from one to four months.
Source president and COO Jim Gillis said that the 7-cents-per-copy surcharge Source and Anderson asked for in mid-January was pulled off the table almost as quickly as it was introduced. Anderson has filed its own antitrust lawsuit against several publishers.
Source, Gillis said, was attempting to prop up profits in a broken distribution model. But following the failed seven-cent proposal, the company planned to meet with publishers and distributors individually to re-work incentive programs.
Then, Gillis said, the bottom fell out. "Look, I saw every single national distributor and publisher last week and I was promised all the magazines uninterrupted," he said. "And on Monday at 4:17 [p.m.] when I released all the payments, those guys shut me off 13 minutes later because they're all talking to each other. So there was never an intention of shipping me. They've been thinking of this for a year, not two weeks."
Source has since settled its claims with Time Inc. Time Warner Retail, American Media Inc., Distribution Services Inc. and News Group, which has since bought Anderson's assets and under the new infrastructure has 27 distribution centers, 8,600 employees and 120 depots between its five separate ownership groups.
VITAL STATS: Some publishers could see disruptions for months to come.
Meet the Author
---