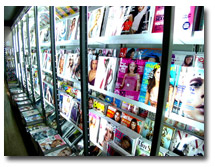 Newsstand sales in the second half of 2009 were dreadful, but in the wreckage there are some hopeful signs that the worst may be over. Recently released data from ABC and BPA revealed (based on preliminary analysis) that unit sales of audited publications for the six-month period ending December 2009 fell 11.9 percent and revenue declined 12 percent.
Note that the decline in unit sales is approximately three percentage points higher than the 9.1 percent figure that has recently been reported in the press. The reason for the difference is that my calculations are based on actual year previous comparisons and are not limited to comparing only year previous sales of titles shown on the current audit bureau reports. The differences have been exacerbated by the enormous number of publications that reported sales in the second half of 2008, but have since been discontinued or ceased being audited (more on that later).
The newsstand sales slide began in earnest in the second half of 2008. Prior to that, newsstand unit sales had been annually declining at about 2 percent while revenue remained essentially flat. But in the second half of 2008 unit sales precipitously fell 15.6 percent and in the next six-month period unit sales again declined by over 15 percent. In the second half of last year the nearly12 percent decline was less than the two previous periods, but still historically aberrant.
Make no mistake about it, the newsstand sales decline of the last two years has been brutal—unit sales of audited publications have fallen a massive 23 percent—from 932 million in 2007 to 717 million in 2009—a debilitating annual loss of 215 million unit sales.
The newsstand sales decline the last two years has been devastatingly steep, but it may have had a long overdue newsstand cleansing effect. Despite the record sales declines there are several reasons to be, at least partially, optimistic that newsstand sales may have bottomed out in the second half of 2009.
1. Publication Closings Peak: The magazine publishing industry, after decades of success, had become plagued by an over abundance of publications. On the newsstand there were too many titles fighting for too little display space. It hasn't been pretty, but the weeding out process has come swiftly. In the second half of last year there were a record 82 audited publications that were discontinued or ceased being audited. In the aggregate the titles discontinued in second half of last year accounted for nearly $70 million in retail revenue and 11 million in units sales. About one third of the 11.9 percent drop in unit sales for the period can be directly attributed to discontinued titles.
2. New Publication Starts Reached Their Nadir: New publications are the lifeblood of the newsstand, but their stream nearly dried up in 2009 as publishers struggled to put their financial houses in order. In the second half of last year there were just six newly audited publications, of which only three had significant newsstand sales—Hearst's Food Network debuted with near record sales of 358,000 per issue, Clean Eating, published by Canusa, also had an impressive debut reporting 119,000 sales per issue and Science Illustrated from Bonnier reported solid newsstand sales of 40,000 per issue.
There is a lot evidence to indicate that the heavy title discontinuance process may have peaked and has begun to slow to a more normal pace. Plus it's expected that the new publication stream will be unclogged as publishers gain confidence from a revived economy. I think we can expect a much better balance between title discontinuances and new publication starts beginning in 2010. This will have a positive impact on future newsstand sales.
Changing Sales Patterns
There are, however, indications that the immense sales upheaval the industry has experienced the last several years will have its effect on future sales patterns. One of these is the growing significance of checkout titles. In the second half of last year the unit sales of the 68 leading checkout titles declined 7.7 percent and revenue fell 6.6 percent. The six weekly celebrity publications (People, US, Star, InTouch, OK!, Life & Style ) posted aggregate sales that mirrored that of the checkout sector as a whole—unit sales down 6.7 percent and revenue off 6.3 percent. This wasn't exactly superlative performance, but compared to mainline title sales it looks positively spectacular. Mainline title sales fell 24.7 percent and revenue declined 23.2 percent. The checkout and mainline sales disparity points to the growing influence of retail chains and their emphasis on checkout title sales. This is a trend that is likely to continue as retail chains become even more selective in the titles they distribute.  

Final Thoughts
The worst may be over, but it doesn't seem likely that newsstand sales will soon return to levels achieved a few short years ago. It also appears as if the retail environment will be less friendly to mainline titles. However, it's entirely possible that the future sales process will be more efficient for the surviving publications.