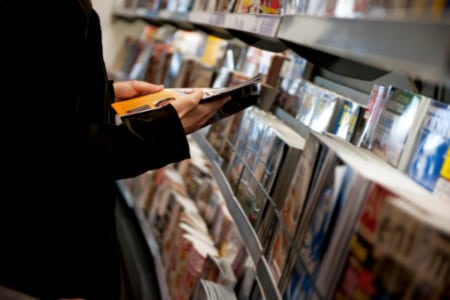 If revenues are truly growing in magazine media, it's not because of newsstand sales.
2015 saw a 15.8 percent year-over-year decline in the number of magazines sold on North American newsstands, according to data released today by MagNet, corresponding to a 13 percent drop in industry-wide newsstand revenue.
The year-over-year declines in Q4 were actually a slight improvement over those observed earlier in the year, but still represented a 7.6 percent revenue dip compared to the same period in 2014. Overall, annual newsstand revenues dropped under $2.5 billion for the first time in at least a decade.
Sell-through efficiency—the percentage of copies produced that are actually sold—also took a hit, dropping from 29.9 percent in 2014 to 26.4 percent last year, a troubling trend for publishers as sales declines continue to outpace slowdowns in production. Total circulation appeared to have little effect on sell-through efficiency, with the top ten titles achieving only a slightly better rate of 27.5 percent.
When broken down by category, Crafts and Women's magazines were the significant segments that took the hardest hits in 2015, down 18.6 percent and 18.4 percent year-over-year, respectively. Only Science (7.3 percent), Game/Puzzle/Crossword (4.2 percent), and Entertainment (1.2 percent) experienced any increase at all. Automotive (-18.3 percent) and General Interest (-17.9 percent), also saw considerable declines.
Every retail outlet in which single-copy magazines are sold saw sales drop in 2015, according to the data. Convenience stores led the way, with revenues dropping 30.1 percent compared to 2014, followed by drug stores (-20 percent) and newsstands (-19 percent). Bookstores, club stores, and terminals saw the smallest drops in revenue.
Supermarkets continue to be the largest retail center for single-copy magazine sales, with 35.6 percent market share, while terminals boast the highest sell-through efficiency: 33.9 percent.