Newsstand Sales Down 6 Percent in First Quarter

Retail totaled $987 million in Q1, says MagNet.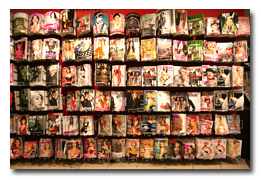 Newsstand research and data firm MagNet has released first quarter 2011 retail sales numbers and revenues are slightly down. Sales for the quarter totaled $987 million, down almost 6 percent from same period last year, which recorded just over $1.04 billion in retail sales. The data company cites high gas prices as a major factor for the quarter's slump.
Major news events, such as the royal wedding and Bin Laden's death, says MagNet, are predicted to help shore up second quarter numbers. For example, MagNet is forecasting People's royal wedding coverage to add approximately $4 million to its retail sales.
Likewise, TIME's Bin Laden cover should max out at three to four times its normal newsstand sales for the issue, predicts MagNet. Time Inc. tripled its print order for the edition and it was pumped into an additional 20,000 stores-all of which could mean another $1.5 million in retail sales for the magazine.
The celebrity category maintained its best-selling position with 23.5 percent share of total sales for the first quarter, accounting for $232 million. Celebrity titles, however, dropped 8.5 percent in share of market, per MagNet. Gainers include Food/Wine (3 percent), Home (8 percent) and Home/Garden (3 percent). Combined, these three categories represent 12.5 percent of retail dollars.
Meet the Authors
---