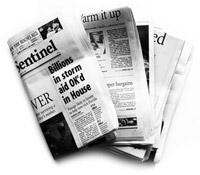 Advertising revenue for newspapers fell 9.4 percent to $42 billion in 2007—the worst drop in more than 50 years—according to the figures released late last week by the Newspaper Association of America.
It was the biggest decline since 2001, when ad revenue fell 9 percent.
Total advertising revenue in 2007—including online revenue—decreased 7.9 percent.
According to Editor & Publisher, there are signs that online revenue is beginning to slow. In 2007, Internet ad revenue increased 18.8 percent. In 2006, it online revenue grew 31.4 percent—the same increase Web advertising saw in 2005.
"Even with the near-term challenges posed to print media by a more fragmented information environment and the economic headwinds facing all advertising media, newspaper publishers are continuing to drive strong revenue growth from their increasingly robust Web platforms," John Sturm, president and CEO of the NAA, said in a statement.
Total magazine rate-card-reported advertising revenue for consumer
magazines grew 6.1 percent in 2007 when compared to 2006, according to year-end Publishers Information Bureau figures. But total ad pages—considered the more telling
statistic, given the unaccounted rate card discounts doled out by
publishers—declined about a half a percent (-0.6) over the same period.