Newsmagazine Sites 'Slow' to Acknowledge Clinton Concession Story

In 2008, even 20 minutes is too long to wait.
With all the talk about newsmagazines shifting strategies
and resources to the Web—where their wired editorial staffs can present breaking
news and analysis prominently, and in real-time—you'd think that the fancy million-dollar
Web sites of Time and Newsweek and New York magazine would be right on top of
the Hillary Clinton concession story. Yet, 20 minutes after the Associated
Press published its story that Clinton would concede the nomination tonight (something
she's now backpedalling on), this is what their homepages looked like: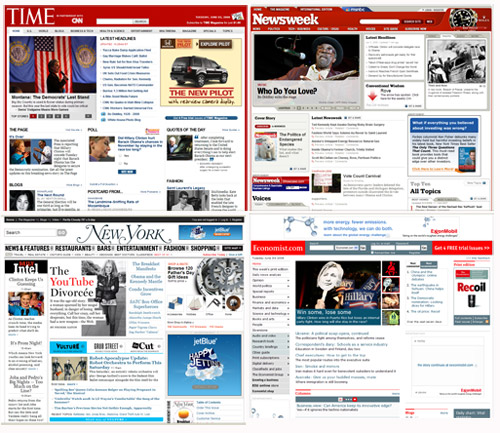 Of the four (including the Economist) only Time referenced the AP story
(in the middle-left of the page) while a story about Montana being the
last battleground state in the Democratic race ran above it. Compare that to, say, the Drudge Report: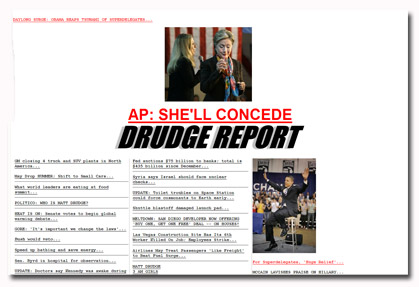 Granted, Drudge isn't doing any
reporting in this case. He doesn't have to. And you'd figure these magazine sites would at least want to acknowledge that
a story is breaking all around them—and do so prominently. (The fact that my office manager could
send me an e-mail about the story before Newsweek acknowledged it is troubling
to me.)
Of course, you could argue they did the right thing and not reference the AP report it until it was substantiated; I'm not going to make that argument here, though. Substantiating reports is so 2006. Telling your audience what you know, as quickly as you know it, is how news works on the Web.
I have no doubt in these magazines' ability
to analyze breaking news like this on the Web and, of course, in the magazine.
And they will. But in 2008, even 20 minutes is too long to wait.
Meet the Author
---