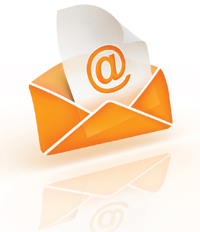 One of the great services traditional print ad salespeople did for the marketing world was to encourage year-long media buys that fostered ongoing communication. There were legendary moments when the best of us refused "one shot" ads while advocating comprehensive ad schedules.
Sadly, a lot of the online media we now sell takes more of a "direct response" mentality. Campaigns are created to generate an immediate response, not long-term dialogue. The core benefit of a newsletter ad campaign is to create ongoing communication with a targeted audience.
Supporting this, many publishers price newsletter ads more like "annuities" than ad space by charging premium pricing for advertisers who sign up for three months or less while granting big discounts for advertisers who commit to six months or a full year. Like life insurance annuities, an annual newsletter media buy doesn't have to cost a lot every month, but with a long term commitment, a publisher or insurance company can run a profitable business over time.
Overcoming Low Open Rates
The biggest problem in selling newsletter ads is the low open rate, which is on average, about 25 percent. For first-time newsletter media buyers, the open rate often comes as a shock. I have seen new customers balk at open rates when they first hear them, saying, "How can I buy advertising in a media where 3/4ths of the audience don't even open it?" A fair question and one we need to be prepared to respond to.
I have seen some media salespeople plead ignorance on open rates, saying their publisher just doesn't know what the numbers are. This is ridiculous, and every experienced media buyer knows it. E-mail newsletter service companies always tell their clients what their open rates are. A media buyer who hears "no one knows what our open rate is" will and should assume the worst and act accordingly.
It is much better to deal with the open rate head on. First consider that because of the CAN-SPAM laws all newsletters must contain an easy "opt out" function. Knowing this, you need to shift the question from "How come only 25 percent of our newsletter readers opened the last newsletter" to "Why don't the 75 percent who did not open the newsletter simply opt out?"
Think about it. These readers did originally opt in, did not open the newsletter's last issue, but did not opt out either. Why?
People stay subscribed, but do not open newsletters, when other things are more important to them at the time the newsletter arrives. There may also be some undercounting because subscribers who read newsletters in the reader pane of Outlook or other newsletter readers but do not overtly open the newsletter, will not be counted as readers.
From Unopened to Latent Readers
But these are smaller arguments. Here is the big one: The "unopen" subscribers may not be engaged in the subject area of your newsletter but will return again. In essence, sell the "unopened newsletter circulation" as being "latent readers" and "latent buyers."
Here is how: First, ask your client about the buying cycle of their products. B-to-b products may be on annual fiscal cycles. Consumer products go through cycles as well. Right after a product is bought the customer who purchased might be out of the market for a period of time. Any advertiser who expects all of their potential buyers to make purchases every week a newsletter goes out is unrealistic.
Now ask your client if they would be interested in buying exposure to a mailing list of people who have a proven interest in their product category, are not actively buying at this moment, but could return to buying mode at any moment. This describes the latent readers and buyers who did not open the last issue.
To get full credit for the media buy you need to sell the importance of your newsletter including the value of the 75 percent or so of readers who did not open the last issue. Newsletters provide an ongoing way for advertisers to stay in touch, inexpensively, with targeted groups of readers/customers. If you can encourage a long term view of the media buy it can be a tremendously beneficial purchase for your client.
Josh Gordon is president of SmarterMediaSales.com, a training and consulting company that helps publishers grow their online business. Gordon also publishes a blog at AdSalesBlog.com.