News Corp. Sells Weekly Standard

Denver-based Clarity Media Group adds conservative news magazine to portfolio.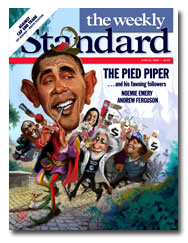 Media mogul Rupert Murdoch has sold conservative news magazine the Weekly Standard to Denver-based Clarity Media Group. Financial terms of the deal were not disclosed.
Clarity CEO Ryan McKibben told the Washington Examiner—which is owned by Clarity—that the group intends to increase the magazine's circulation and ad pages. "The Weekly Standard's content deals with the most critical public policy issue of our time, in an intelligent and compelling way," he said.
In addition to the Washington Examiner, Clarity also publishes the San Francisco Examiner and Examiner.com. Murdoch's News Corp. publishes the Wall Street Journal and the New York Post, as well as several magazines.
Based in Washington, D.C., the Weekly Standard was launched in September 1995 by editor William Kristol. The magazine, according to its Web site, is hand-delivered each Sunday to a "VIP" list of people serving in government, politics, and media—including Congress members, Congressional committees and federal agencies.
Meet the Author
---